Automatic electric airsoft guns (AEGs) are high-performance airsoft guns. In full automatic firing mode, they can shoot a lot of airsoft BBs really quickly. High-end AEGs can be complicated with low resistance wiring, MOSFET switches, and electronic triggers. All of these features contribute to the electrical efficiency of the gun, improve battery life (causing a single battery charge to last longer during airsoft games), and increase the gun's durability. Let's talk about MOSFET's and their uses in guns.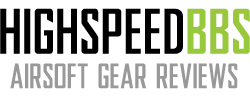 Highspeedbbs editors select and review airsoft products independently. We may earn affiliate commissions from buying links, which help support our testing. Learn more.
Airsoft MOSFET Switch Table of Contents
Add a header to begin generating the table of contents
The first part to understanding MOSFETs is learning what it is and what it does. MOSFET stands for "metal-oxide-semiconductor-field-effect-transistor". The basic understand of what a MOSFET does is that is handles electrical loads and current in optimized ways by routing electricity through a series of circuits with electronic switches. The MOSFET setup is pretty simple. The MOSFET unit is pretty much an electrical switch attached to your AEG airsoft gun's wiring.
Standard AEG Wiring
In a standard AEG airsoft gun wiring harness setup, the AEG's trigger, battery, and motor are all connected in a "circuit" by the connecting wires. When the trigger is pulled, the electrical current flows through all three parts of the circuit - trigger, battery, motor. While this works, it is not the most efficient setup. The electricity flowing through all of the parts of the wiring harness at all times can increase resistance, cause heat, and allow for carbon buildup on trigger contacts.
MOSFET AEG Wiring
MOSFET switches modify the circuit found in AEG airsoft guns described above by adding a MOSFET unit which connects the battery and motor directly and by passes the trigger (while still being activated by the trigger). This setup controls power sent to the airsoft gun's AEG gearbox effectively, efficiently, and reliably.
Types of MOSFETs: Advanced VS Basic
Advanced MOSFET
If you want to better understand MOSFET switches, we should talk about the different types available. Many of the modern MOSFET switches on the market are advanced versions. This type of MOSFET uses a circuit board with a series of programmed computer chips to regulate the electrical conductivity flowing through the airsoft gun. These versions can also include Bluetooth capabilities and can be paired with a smart phone app.
Basic MOSFET
Basic MOSFET switches have the basic setup and electronic load controls found in a MOFSET system. However, they do not have the same connective capabilities as their advanced counterparts (like Bluetooth). The airsoft guns using the basic switches can still be setup for burst timing once they are manually programmed.
Learn How to Make A Basic MOSFET Switch
Homemade MOSFET Switches for Electric Airsoft Gun AEGs
You can make your own MOSFET switch with components, wire, and a soldering gun. We are currently working on the project steps, so check back soon if you are interesting in wiring up your own MOSFET unit.
Upgrade Your Airsoft Gun
MOSFET Upgrades Make a World of Difference
Upgrading your airsoft gun AEG with a drop-in MOSFET unit is one of the best gun upgrades you can make. This will improve your airsoft gun's battery life and internal electrical durability, along with adding enhanced firing capabilities. Drop-in MOSFETs include several different types form more advanced wired-in solutions to simple plug-and-play units attached in-line with the airsoft gun battery connectors. Check them out below.
Check out the Best Airsoft Guns
Find an AEG airsoft gun which comes with a MOSFET!