Airsoft players have to carry a lot of airsoft gear on the fields of battle. Having the right tactical pouches helps carry and store gear correctly while maximizing efficiency. There are many different types of tactical pouches including magazine pouches, medical pouches, magazine recovery dump pouches, administrative and map pouches, and communications and radio pouches. Learn about the best tactical pouches you need to add to your tactical airsoft vest.
Each style of pouch adds different features, strengths, and weaknesses. Understanding the best setup is essential to completing your tactical gear loadout. Continue reading to check out specific pouch styles, features, and benefits. You'll find out what works best for you and different combinations of pouches for your tactical vests, belts, loadout kit, and other areas of your tactical airsoft gear.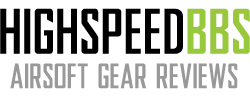 Highspeedbbs editors select and review airsoft products independently. We may earn affiliate commissions from buying links, which help support our testing. Support us.
Best Tactical Pouches Table of Contents
Add a header to begin generating the table of contents
Most tactical pouches attach with MOLLE straps and hook-and-loop style attachments. MOLLE pouches have recently become popular in the last several years due to tactical innovations and inventions. They are the top choice for securing military style pouches to gear, vests, range bags, and other types of equipment. MOLLE straps provide a flexible way for users to select the mounting location and position of the pouch and mount them anywhere on gear where there is a MOLLE attachment panel area. The only limitation becomes which pouches to use and where to place them.
What is MOLLE?
"MOLLE" stands for "Modular Lightweight Load-Carrying Equipment" and describes the pouches, panels, and straps which are used in the MOLLE equipment system. Here are the three parts of the mounting system: MOLLE pouches, straps, and panels.
MOLLE Pouches
MOLLE pouches hold your gear and are what you need to mount to a MOLLE panel using the appropriate MOLLE straps. Attach at any angle!
MOLLE Straps
MOLLE straps securely hold the pouches in place when attached through the mounting loops. The straps are secured every other loop.
MOLLE Mounting Panels
MOLLE mounting panels are the looped areas which secure the MOLLE pouches to them by weaving the straps through the loops.
How does the MOLLE system work?
Mounting these tactical pouches is quick and easy. Simply thread the straps and snap the buttons to secure them in place. Now that we know what MOLLE is and how it works, let's check out some of the best MOLLE pouches you can add to your airsoft gear starting with airsoft gun magazine pouches.
Colors of MOLLE Pouches and Camouflage Patterns
MOLLE tactical pouches come in all colors and camouflage patterns. The example pouches listed here are mainly Coyote Brown because that is the color of most of our spare gear lying around it. However, tactical pouches come in many different colors and camo patterns. Common pouch colors include: black, tan, OD green (olive drab), foliage green (sage), ranger green, and grey. Common pouch camouflage patterns include: woodland, desert, A-TACs, Multicam, ACU (Army Combat Uniform), digital, and others. Check out the example swatches below for what they look like:
MOLLE Pouch Colors
Try to match your MOLLE pouch color to your existing loadout kit, MOLLE tactical vest, combat boots, weapon slings, and other gear. If you haven't picked a color or camo pattern yet for your tactical gear, think about the following considerations.
Choosing Pouch Colors and Camo
What colors and camo patterns work well in your geographical location or area?
Which colors and patterns do you like the best?
If you are on an airsoft team, what colors and camo patterns do they allow?
Are you trying to replicate a military group or Special Ops unit's uniform, match their camo patterns.
Do you want to get one pattern or several? Keep in mind it is good to match your:

Uniform
Tactical Vest and Pouches
FAST Helmet
Other Accessories

Choosing similar colors and patterns like using tan or OD green with Multicam will help your gear match better.
Real Steel Tactical Pouches Versus Airsoft Versions
Another thing to think about is the difference between real steel military pouches meant for combat use versus airsoft pouches meant for light use on the airsoft field. Many of the materials used in both pouches are the same include 1000D Cordura Nylon, Velcro, and ABS plastic. The difference in the intended use. If you get what you pay for, the applications are different, and the prices be between pouch versions can be very different.
Real Steel Ballistics Protection
A full tactical loadout from real steel companies like London Bridge Trading Company, Eagle, 5.11, and others can cost upwards of +$600 USD. These tactical vests usually include IIIA ballistic material and level IIIA to IV bullet resistant plates. They are meant for "going to war" and being in real gunfights. In these situations, having "real" tactical equipment with ballistic protection can save your life. Besides looking cool and being heavy (ballistic plates can weigh a lot at +7lbs each), using the same gear for airsoft would be a waste of money.
Airsoft Replica Tactical Gear
Airsoft is a milsim (military simulation) training environment without need for ballistic material or real plate carriers. A replica setup of tactical airsoft gear will usually cost you  >$300 USD depending on your tactical vest and pouch setup. Many part-time security and law enforcement will also buy high quality airsoft tactical equipment like Condor and use real IV ballistic plates while on duty. This keeps their ballistic protection high will staying within a cheaper high-quality airsoft vest budget.
Standard Rifle Magazine Pouches
Rifle magazines are essential to have on your gear for holding M4/AR-15, AK-47, and other types of airsoft gun rifle magazines. These are also called 'standard' pouches or just 'mag pouches' because they are pretty basic in design. They are one of the original styles of pouches designed to carry spare magazines with you in the field. The magazines are secured inside the pouch with a top flap for added security that is usually fastened with Velcro. The flap could feature a plastic side-release buckle depending on pouch design. In addition to being available from many tactical gear companies in the airsoft industry, standard rifle magazine pouches are durable and one of the most affordable ways to carry magazines.
Most standard rifle mag single or double sized pouches will hold two or three M4/AR-15 magazines per magazine pocket, or one to two other rifle magazines. One of the benefits of these pouches is that they're extremely versatile and flexible since many types of airsoft gun magazines will fit in them. For example, the Condor M4 Mag Pouch pocket will hold two STANAG magazines, one G36C, or one AK Mag. It can even hold an SR25 or M14 magazine as well as used to carry magazine style speed loaders, grenades, flashbangs, or powerbars.
This style of tactical mag pouch securely holds airsoft gun magazines in place thanks to the top flap. This prevents accidental magazine loss while playing airsoft in rough terrain such as moving through brush, climbing rocks, crawling, or other similar abrasive contact. The pouch flap also keeps magazines cleaner. If you're army crawling in dirt or mug, your magazines will stay much cleaner in pouches with a flip top than in open-top mag pouches.
The trade-off is speed and noise when opening the flap. It takes longer to access the gun magazines while reloading, since you have to open the flap to get to them, and silent mag changes are almost impossible due the noise of the releasing hook-and-loop of the Velcro.
Standard Magazine Pouch Location
Magazine pouches are usually carried on the front panel of an airsoft MOLLE vest for quick access to gun magazines while loading and reloading your primary weapon system. Only the back of the pouches has MOLLE attachment loops, so the pouch front cannot connect to other pouches.
Need a standard magazine pouch?
Check Out The Best Standard Rifle Magazine Pouches
Tactical Open Top Magazine Pouches
Open top magazine pouches are similar to the standard mag pouches with a few modifications. As the tactical pouch name implies, this pouch style removes the flap leaving an open top to insert and remove magazines. This allows for silent access and increased speed while reloading guns or accessing gear. These mag pouches can come in single or triple magazine holding setups as seen in the picture.
The top of the open top magazine pouches are secured with a elastic shock bungee cord featuring a pull tag to keep the mags securely in place while moving on the field or transporting gear. Many of these tactical magazine pouches also feature MOLLE loops on the front for adding additional gear or securing other equipment in the loops like tactical knives and glowsticks.
Many open top magazine brands and manufacturers use the featured elastic shock bungee cord and pull tab to provide additional magazine holding security while they are seated in the magazine pocket. This includes Condor's Triple Stacker M4 Mag Pouch, Tactical Tailor's Triple Pouch, Fight Light's Single Pouch, and many other tactical pouch brands. For even faster access, you can leave the elastic bungee to the side of the magazine (not over the top) for more immediate and direct access to the mag. Because of the shape of the magazine pouch pocket, most open top mag pouches are sized for one type of magazine.
The Condor M4 Triple Stacker mag pouches pictured fit STANAG and many other M4, AR-15, and HK416 type 5.56x45mm magazines. You will need a larger pouch to hold M14 or SR-25 since they are .308 cal or 7.62×51mm style magazines. Pantac USA makes the EV Universal Open Top Pouches which hold two M4 mags or one larger mag such as the G36 magazines.
This multi-use tactical pouch style is great for people who plan on using primary weapons systems with different sized magazines and need to switch between carrying smaller and larger mags in the field using the same tactical vest or chest harness. This style is lower profile than the standard ones above, and faster to access. Keep in mind it doesn't provide the versatility of the universal magazine pouches.
Open Top Magazine Pouch Location
Open top magazine pouches are usually carried on the front panel of an airsoft MOLLE vest similar to standard mag pouches. Quickly access gun magazines while reloading primary weapons and double stack the pouches if needed using the pouches' front MOLLE attachments.
Interested in an open top magazine pouch?
Find The Best Open Top Rifle Magazine Pouches
Open Top MOLLE Magazine Pouches with Retention
Open top magazine pouches with retention systems are the newest and most advanced type of tactical mag pouches. The retention systems are built into the magazine pocket so that it carries the magazine securely under tension. In order to make mag access easier and reloads faster than ever before, this style of tactical pouch utilizes MOLLE attachments so it can be mounted at any angle on a MOLLE tactical vest. The pouch components are typically made of ABS construction.
Retention mag pouches like the FastMag style use varying types of retention to grip the magazines and provide security including bungee cords or rubberized tension bands (depending on manufacturer). Magazines are quickly reloadable by indexing the magazine and giving it a sharp tug up out of the pouch. While keep in the holder, the tension straps securely hold the magazines so you don't have to worry about losing the mag during fast movements, crawling, climbing, or maneuvers in training or on the airsoft field.
Pouches like the Blue Force Gear Ten Speed or the High Speed Gear TACO style pouches provide easy carry of M4, AR-15, and HK416 magazines. These tactical pouch brand styles along with the ITW FastMags provide plenty of room at the top of the pouch to get a solid grip on the base of the magazine. The BFG elastic pouches are the least expensive of the three, while the HSGI TACO pouches are fully adjustable to fit any type of magazine, from 7.62x51mm or .308 cal to the bulky SIG 550 mags. Since the release of these magazine styles, many other manufacturers have copied their styles and brought them into the world of airsoft tactical gear.
The FastMag style is the easiest to re-index magazines in, as the rigid design which stays open after removal. For reference, these are the hard ABS plastic style magazine holders with the lateral tension bands. See the picture below for what these pouches look like when comparing the look of bungee versus FastMag styles. Operators should use whichever retention mag pouch style works best for them.
When comparing standard magazine pouches to these advanced retention magazine pouches, there are different features in each style which can aid in reloading speed and dexterity. However, for those looking for mag pouches with both security and speed, the open top magazine pouch with retention is an advanced option which may be the best choice.
Retention Magazine Pouch Location
Retention magazine pouches are usually carried on the front panel of an MOLLE tactical vest for quick access to primary gun magazines. Retention pouches also interconnect so mags can be double stacked 2-by-2 (or more) using the slotted loops found on the front of the pouches.
Looking for a retention magazine pouch?
See The Best Open Top Retention Magazine Pouches
MOLLE Airsoft Gun Pistol Magazine Pouches
Pistol magazine pouches come in similar style to the rifle pouches with standard flip top, open top, and open top with retention styles of tactical pouches. The pistol magazine pouches which come in the standard style have a Velcro flap. Condor makes several standard pistol pouches which secure airsoft gun magazines very well with this durable Velcro flip top design.
The open top and open top with retention pistol pouches are the most commonly found versions of pistol pouches. Many of the same companies which make rifle mag pouches make matching pistol magazine pouches in the same style. This includes companies like Blue Force Gear, and High Speed Gear. Both of their rifle mag pouch designs are excellent quality, very usable, and are replicated by airsoft pouch companies.
Tactical Tailor is another great brand which designs pistol mag pouches. Their pouches are unique in that they feature a top flap for security but also have internal Kydex inserts for retention. This allows the pouches to be used in either standard or open top mode, depending on the mission needs for security or speed.
When it comes to carrying pistol mags, choose a tactical pouch style which will fit your handgun magazines (or the pistols you most commonly carry as sidearms on the airsoft field). Be aware that some pistol mag pouches are a "one size fits most" design. These pouches will hold most GLOCK, Sig, 1911, and HK magazines and along with similar mag types and sizes.
Pistol Magazine Pouch Location
Pistol magazine pouches are usually carried on the front panel of an MOLLE tactical vest in front of or near rifle magazines. This allows for quick sidearm magazine access during pistol reloads. Optional location areas include drop-leg platforms and weakside pouch positioning on a tactical belt. Pistol pouches can be mounted on the front's of rifle pouches which have front MOLLE attachment loops or other similar tactical pouches.
Carrying extra pistol magazines?
Use The Best Pistol Magazine Pouches
Combination Magazine Tactical Pouches
Kangaroo, Stacker, and Hybrid Tactical Pouches
Kangaroo tactical pouches are a paired style of pouch featuring both a rifle and pistol magazine. Two is usually better than one. This pouch proves this to be true since it saves you money from having to buy two pouches. For example, the cost of one triple mag kangaroo pouch equals about a seventy-five percent (75%) savings over buying all six separately (3x rifle and 3x pistol magazines). Never buy pouches separately with you can get them together.
The kangaroo style of pouch carries two kinds of mags and takes up less space on your tactical vest or gear. This style of pouch will carry a rifle mag as well as a spare pistol mag in front of the other in the same MOLLE footprint. The Condor Gen 2 Kangaroo Pouch, OneTigris, Elite Spanker, and HSG Double Decker Pouch are all great quality pouches to run on your gear setup. These are excellent if MOLLE space is at a premium on your belt or vest and you need to make the most efficient use of your pouches.
Kangaroo Combination Pouch Location
Kangaroo magazine pouches are usually carried on the front panel of an MOLLE tactical vest. Since these pouches hold both rifle and pistol magazines, the front mounted area keeps both types of magazines within close reach for reloads of primary or secondary weapons.
Carrying multiple weapon magazines?
Check Out Best Combination Rifle/Pistol Kangaroo Pouches
Dump pouches (a.k.a magazine recovery pouches) create a space for you to dump empty mags and other things into quickly. These tactical pouches are usually carried in a "rolled up" position and secured by a button or strap. The pouch can be quickly unrolled to expand in size and hold empty magazines after reloads, extra airsoft BBs/shells, and other gear while in the field. Some dump pouches also have draw string tops for extra security while moving with a filled pouch.
Dump Pouch Mounting Location
Think of dump pouches as your catch all when you need extra room on the fly. Practice with your gear to see where mounting this pouch works best. It is normally carried on the weak side rear of a tactical belt so your weak hand can drop empty magazines into it or access gear while holding your primary weapon in your strong hand.
Don't want to leave gun magazines or gear on the field?
Store Them in Best Mag Recovery Dump Pouches
Tactical IFAK Medical MOLLE Pouches
Airsoft First Aid Kit Items
Medical pouches are a must have for an airsoft gear loadout. IFAK stands for "individual first aid kit" and contains the equipment airsoft players need when they have to patch up a cut or wound on the field. A first aid kit should contain the following items:
Medical Tape or Cloth tape
Band-Aids or Adhesive Bandages
Ibuprofen/Aspirin
Rolled Gauze
Several Sterile Gauze Pads
Antiseptic Wipes
Folding CPR Mask or Breath Barrier
Nonlatex Gloves
Trauma Shears
Tweezers
Other items as needed
Find A Complete Medical Kit
Last update on March 28, 2023 // Source: Amazon API
Tactical Blowout Kit Items
If you are building a "real" tactical vest or law enforcement or security details, you will need a real tactical medical kit. The standard tactical medical trauma kits contain a few different things which are not needed on the airsoft field. These first aid kits are meant for treating gunshot wounds and situations of someone bleeding out. These trauma kits include:
QuikClot or Similar Anti-Coagulant
CAT Tourniquet or Similar Tourniquet
Medical Tape or Cloth tape
Several Sterile Gauze Pads
Sterile Gauze Swabs
Chest Seal
Splint
Airways (optional)
Nonlatex Gloves
Trauma Sheers
Israeli Bandages
Other items as needed
Get A Real Tactical Medical Kit
Last update on March 28, 2023 // Source: Amazon API
Having the right medical kit will help you patch up yourself or friends. Don't leave home without one! Use the example lists above to stock up your medical pouch with the correct items.
Medical Pouch Mounting Location
Medical MOLLE pouches work best when located on the side of a tactical best under the arms. They can also be mounted on or near the back of the vest if you are short on room. Just make sure you can use the "rip-away" feature by unclipping the securing strap and pulling the Velcro back from the mounting spot. If you are also carrying a tourniquet, you can carry it inside the medical pouch or in its own separate MOLLE tourniquet holder.
Patching up scrapes and cuts?
Deploy The Best MOLLE Medical and IFAK Pouches
Pair it with a MOLLE Tourniquet Pouch
Admin pouches create room for carrying tools, folded maps, pens, and other field supplies. These pouches are general use pouches for odds and ends which don't go anywhere else normally. Think spare airsoft BB bags, red "dead" rags, multitools (if they don't have their own special pouch), and other gear you may need on the airsoft field or tactical situation.
Admin Pouch Mounting Location
Tactical admin pouches can be mounted where ever there is room on the tactical vest. The most preferable spot is on the MOLLE loops at the top front of the vest or carrier above the magazine pouches (if it's less bulky) for easy access to maps and tools. If the admin pouch is larger in size, try mounting it on the MOLLE panels around the side of the vest under an arm to make use of that space.
Carrying extra field supplies in your gear?
Check Out The Best Admin MOLLE Pouches
Tactical Radio Pouches with MOLLE Attachments
Many airsoft teams use radios and communications equipment on the field. Using a radio pouch with MOLLE attachments helps you secure your communications gear while moving. These small radio pouches will hold most walkie-talkies and radios like the Motorola TALKABOUT T800 series and Baofeng UV-5R VHR radios.
Radio Pouch Mounting Location
Mount the radio pouch in a spot where you have extra room and in a spot where it is safely out of the way. The best mounting locations are on the MOLLE panels on the sides of the tactical vest or on the lower back on your weakside arm where you can adjust the volume or channels.
Got coms and communicating with your team?
Secure Your Radio in The Best Communications/Radio MOLLE Pouches
Pair with These Radios for Tactical Team Communication
Application: Practical Tactical Gear
Ok! That is a quick rundown of how MOLLE works, selecting pouch colors and camos, the best tactical pouches, and locations to attach them to your tactical MOLLE vest. Now that have a great start to understanding how to build our tactical loadout with the correct pouches, we can make educated choices about how to lay out our gear. Here are a couple of examples.
On a few different types of MOLLE vests from the Best Tactical Vests, we setup a triple open-top mag pouch on the front for easy access and standard mag pouches on the sides of the best. By using the regular mag pouches on the sides, we can swap them out for grenades or other items when needed or use them to carry extra magazines. This keeps the bulky gear on the sides and leaves tactical vest thinner in front for easier movements.
For selecting the best magazine pouches on a tactical belt, the HSGI TACO style pouches provide retention so you don't lose mags when you are running and not paying attention. They provide easy access for emergency magazine reloads with minimal effort. The TACOs also allow you to use other size magazines without modifying the loadout or kit at all which improves versatility. Not only can you save yourself the trouble of moving pouches, you only have to buy one kind of pouch, which saves time and money.
Depending on your needs, your setup, and which features you find the most valuable, you may not arrange your loadout exactly like the example above. However using the above information about pouches here, hopefully you'll be able to make a more educated choice, and end up with the absolute best items possible for your own uses.
Learn About The Best Airsoft Guns
See the top rated airsoft guns!