Looking for high quality airsoft guns? Check out our airsoft rifles and long guns. Here you will find popular airsoft rifles including automatic electric guns (AEGs), gas blowback CO2 powered airsoft rifles, and spring airsoft guns. Check out airsoft guns from top airsoft brands like Elite Force, Umarex, Lancer Tactical, Airsoft GI, Evike, GG&G, ASG, and more. Check current prices, see where to buy them, and make sure you are getting the best gun by reading the reviews and customer ratings.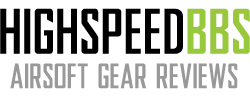 Highspeedbbs editors select and review airsoft products independently. We may earn affiliate commissions from buying links, which help support our testing. Support us.
Airsoft Store Table of Contents
Add a header to begin generating the table of contents
Elite Force Airsoft Guns and Rifles
If you are looking for an airsoft gun or AEG, Elite Force (by Umarex) is a household name worth checking out. Umarex entered the outdoor shooting industry in 1972, and their airsoft guns represent the quality behind the Elite Force airsoft brand. These airsoft guns feature durable metal and polymer constructions. The higher-end AEGs have MOSFETs with upgradable full-metal gearboxes like the version 2 gearbox featured in the HK 416 A4 airsoft rifle and the VFC OEM gearbox in the HK MP7. The competition, Amoeba, Avalon, and other top-tier airsoft guns will shoot 350-395 FPS out of the box depending on the model.
Elite Force is known for creating licensed airsoft gun replicas of real-world firearms including GLOCK pistols, Heckler & Koch (HK) handguns and submachine guns, Smith & Wesson (S&W) pistols, Walther sidearms, and Beretta rifles and pistols. The result is a high-quality airsoft gun with the exact same look and feel as the real firearm. The functionality and reloading is extremely similar as well (besides the fact the airsoft gun version shoots plastic airsoft BBs instead of bullets). This makes Elite Force airsoft guns perfect cross training platforms for real-world weapons training. Visit Elite Force Airsoft.
AEG Airsoft Guns by Evike
The Evike airsoft store is one of the providers for high quality airsoft guns and AEGs. Their airsoft superstore is based out of Alhambra, CA, and the Evike team is are always looking for ways they can provide superior airsoft guns, products, and gear. They stock many of the top airsoft gun brands including Umarex, Echo1, Matrix, JG, ICS, ASG, APSm, Tokyo Marui, EMG, WE, Colt, and CYMA. If you are looking for a gun you can't find elsewhere, they offer custom builds through the Evike Custom line.
G&G Airsoft Guns
G&G is another airsoft brand who has been in the "game" since 1986 when they started distributing airsoft guns out of Taipei, Taiwan. Their most well-known airsoft gun line, G&G Armament, was created in 2001. When they make airsoft guns, AEGs, airsoft BBs, and other types of airsoft gear, players take notice and seek the quality and durability of the G&G airsoft brand. The AEG Combat Machine 16 (CM16) series is a popular part of their Intermediate GC product line which do well for many airsoft players. Airsoft players looking for more customized airsoft guns can check out the G&G Advanced GT series.
KWA Airsoft Guns
KWA was founded in 1988 and is another industry leading manufacturer of airsoft guns, AEGs, and GBB pistols. These guns hit hard and come ready to rock-and-roll out of the box with the guns having many features which are considered "airsoft gun upgrades" by other brands. The extra investment is worth the airsoft gun durability and upgrades. KWA airsoft rifles are top-tier AEGs and their reputation holds up in intense airsoft battles. The rifles feature full metal upper and lower receivers, CNC machined rail systems and handguards, custom add-ons like trigger guards, advanced wiring setups, and adjustable stocks. KWA airsoft gun AEGs are excellent examples of high speed, low drag airsoft guns with devastating capabilities on the field.
Lancer Tactical AEG Airsoft Rifles
Lancer Tactical is a newer airsoft brand. Established in 2012, they are innovating new ways to bring quality airsoft guns to players and keep them budget friendlier. There are several different AEG airsoft gun lines within the Lancer Tactical brand which come in high and low FPS versions. The high FPS airsoft guns average around +395 FPS while the low FPS guns average about +350 FPS. This allows players to easily choose an airsoft gun which will work well depending on their local airsoft field FPS limits without having to modify a brand-new airsoft gun. Lower FPS can also create less strain on parts which can potentially lead to better gun durability and life expectancy of parts. Read about the full specs of Lancer Tactical airsoft guns.
The Gen 2 (G2) airsoft guns feature polymer gun bodies (upper and lower receiver) with a polymer rail system. G2s have metal gear boxes to maintain good durability. The Lancer Tactical ProLine airsoft guns are great for new players and veterans alike. These guns feature full metal receivers and rail systems which make them last longer and give them a more realistic feel of an M4 carbine rifle. Both the G2 and ProLine guns have MOSFETs and Lancer Fast Trigger systems to maintain and regulate the electrical flow from the AEG's battery. Lancer Tactical airsoft guns have quick-change access for swapping out AEG springs.
Valken Airsoft Guns
Valken is another great manufacturer of airsoft guns. Based out of Swedesboro, NJ, they were founded in 2008 with the goal of bringing airsoft and paintball to players around the world. The Valken airsoft gun lineup includes their ASL series and the Alloy series rifles. The ASL guns have nylon polymer receivers, about +345 FPS, and are a middle-of-the-road grade airsoft gun. The Alloy airsoft guns feature metal receivers with around +395 FPS specifications. Visit Valken Sports to learn more.
Well Airsoft Sniper Rifles
Well airsoft sniper rifles are some of the most widely available and durable spring airsoft guns for snipers. Many of these sniper rifles have polymer sniper stocks with metal bolts and receivers. The spring actions make them a deadly and powerful force on the airsoft field. Some higher-end Well rifles are also upgradable with VSR-10 components, barrels, and springs which allow airsoft players to push their rifles to the limits of maximum airsoft gun range and allowable FPS (depending on country and field). Well sniper rifles average about +400 FPS in their factory stock configurations. Airsoft players can add their own sniper accessories like slings, swivel mounts, bi-pods, sniper scopes, and other add-ons.
Umarex Airsoft Pistols
Umarex and Elite Force airsoft pistols are good pistols for airsoft players not looking to break the bank while still looking for quality. Umarex designs the majority of these airsoft gun replicas after real handgun firearms and licenses them through the primary firearm manufacturers. Because of this, the airsoft pistols have the same look (including logos, branding, and trademarks), feel, and functionality as the real weapons. This makes them great for airsoft training weapons for civilians, security, military, and law enforcement personnel. The Picatinny accessory rails will also fit standard weapon lights and accessories, and the pistols will fit in holsters designed for the handgun replica's make and model.
Lower-end versions of Umarex airsoft pistols come in green gas and CO2 versions and have non-GBB actions will still maintaining the high quality feel and specifications of a Umarex airsoft gun. The high-end Umarex airsoft pistols are also powered by green gas and CO2 and average around +380 FPS. Airsoft players can easily stock up on extra pistol magazines since there is a large market for both OEM and aftermarket extra and replacement magazines. The pistol magazines hold around 15 airsoft BBs on average (depending on pistol model). Learn more about Umarex USA airsoft pistols.
KWA Airsoft Pistols
Like their AEG airsoft guns, KWA airsoft pistols are durable, reliable, and make great sidearms on the airsoft field. The CO2 and green gas blowback (GBB) versions of these airsoft pistols make great, realistic training weapons for military and law enforcement. KWA pistols are considered more of a higher-end, professional grade airsoft pistol. They feature full metal pistol frames with drop-free magazines. They are designed to have the same weight, look, handling, and feel (1:1 scale) as the real pistols and handguns they are modeled after. These airsoft pistols average around +350 FPS. Learn more about KWA pistols.
Airsoft Weapon FAQs
Find Answers to Your Questions About Airsoft Guns
Airsoft guns are like paintball guns, but these airsoft weapons shoot 6mm plastic pellet BBs instead of paint. They are meant to be used safely and responsibility. This includes marking weapon barrels with orange tips. Many airsoft weapons are replicas of real guns and often look identical to the real world versions from a distance. Because of this, they are great training platforms for military and law enforcement and fun to shoot. Using an orange barrel tip helps identify that you are playing with an airsoft toy weapon and not a real weapon.
When playing airsoft and shooting airsoft guns, play with the weapons in a safe area with adult supervision, use eye and face protection, and understand your local laws about airsoft guns. While airsoft weapons and airsoft guns may be thought of as toys, they can cause physical harm and property damage if used improperly. Please always play airsoft safely and shoot them responsibility. If you have any questions about airsoft in your area or where you safely shoot your guns, check with your local authorities before playing.
Airsoft BBs are the ammunition used in airsoft guns. These BBs are plastic like ABS and other biodegradable types. They can be 6mm or 8mm in diameter and come in various weights. The airsoft BBs are stored in the airsoft gun magazine. They are fed into the airsoft gun as the airsoft gun fires BBs. You can learn more about airsoft BBs here
Yes, getting shot with airsoft guns can hurt. Airsoft guns can shoot at very high FPS (the speed the airsoft BBs travel). Airsoft BBs will probably hurt your bare skin and even be felt through clothing. When playing airsoft, it is important to protect your eyes, face, head, hands, and other parts of your body. You can do this by wearing airsoft goggles, a face mask, a sweatshirt, gloves, and other protective airsoft gear and equipment. In extreme cases, airsoft BBs have been known to break skin causing red welts, chip teeth (if players don't wear airsoft masks), and cause pain. Keep in mind safety is your responsibility. You must keep yourself safe.
Airsoft guns are not inherently dangerous. However, airsoft guns can be used dangerous if players are shooting them without wearing eye protection and the proper safety equipment. This is because airsoft guns shoot BBs very fast at speeds up to 400+ FPS. If players do not wear eye protection, airsoft BBs can seriously hurt players by injuring their eyes if the BB's hit them in the facial area. The resulting injuries can potentially cause irreparable damage including blindness. Therefore, always wear impact-rated, ballistic eye protection when using or around people using airsoft guns. This applies to players, spectators, and bystanders on the airsoft field. Airsoft BBs traveling at high speeds have also been known to chip teeth and break the skin causing bleeding. This is why it is good for players to wear other protective equipment like facemasks, gloves, and a long sleeve shirt.
No, airsoft guns cannot kill a person. This is because they fire airsoft BB plastic pellets which are not capable of killing a human. They can cause injury to players not wearing airsoft safety gear.
No, airsoft guns cannot fire real bullets or be modified to use real ammunition. While they look similar to real weapons, airsoft guns function entirely different, shoot plastic BBs, and cannot be modified or adapted to use real bullets. Even if someone was able to somehow heavily modify an airsoft gun receiver part to build a gun which could shoot real bullets, it could not handle the pressure and recoil.
Some airsoft guns accessories and components could potentially be used on real guns. Keep in mind real guns are designed with handle the stress of shooting real bullets. The pressure, impact, and recoil of shooting real ammunition can easily destroy the lightweight plastic and metal airsoft accessories and components.
Types of Airsoft Guns
There are five main categories of airsoft guns. They include pistols, sub machine guns, rifles/DMRs, squad support weapons/machine guns, and sniper rifles. Each category of airsoft guns is based around an airsoft player's play style, the airsoft guns they enjoy, and possibly designated airsoft team roles. These guns are powered by a specific type of action. These types include spring, electric (AEG), and compressed gas or propane.
Airsoft Gun Types VS Categories
It is easy to confuse airsoft gun types and categories:. Here are some definitions we can use to keep our thinking straight:
Airsoft Gun Type: An airsoft gun type can be defined as what propels BBs out of the airsoft gun and makes the gun work. The airsoft gun types include spring powered, electric powered AEGs, and gas powered CO2 and green gas powered. These types are shared characteristics of how the airsoft guns shoot airsoft BBs.
Airsoft Gun Category: An airsoft gun category can be defined as a set of common characteristics and similarly shared features. The airsoft gun categories include the five main gun categories listed above - pistols, sub machine guns, rifles, machine guns, and sniper rifles.
Pistol Airsoft Guns
Pistol airsoft guns are usually classified as handguns and pistols which can be held with one hand. Airsoft gun pistols are usually shorter range guns with smaller gun magazine capacities and are used as backup guns for that reason. These airsoft guns which are usually designed off of actual pistol models like the Desert Eagle, 1911, Glock 19, HK USP, Walter P99, revolvers and other popular pistol platforms. These airsoft pistol replicas are licensed through the firearms manufacturers for extremely detailed designs down to the serial numbers and logos. Airsoft pistols can be powered by spring actions, propellants like CO2 compressed air and green gas (blowback and non blowback versions), and batteries like in electric blowback (EBB) airsoft pistols. Learn more about airsoft guns
Sub Machine Gun Airsoft Guns
Sub machine guns or SMG airsoft guns are the middle ground between airsoft pistols and airsoft rifles which short gun barrels and higher capacity gun magazines. SMGs can be used as primary weapons and backup airsoft guns if they are small enough. They are usually AEGs or green gas airsoft gun types. The AEG SMGs are powered by batteries and electricity with internal AEG airsoft gun components, including cylinder heads, pistons, and gearboxes. Green gas SMGs shoot airsoft BBs by using propane gas stored in the SMG magazines and a series of gas reservoirs, nozzles, valves, and channels. Examples of airsoft SMGs include the KRISS Vector, HK MP5, HK MP7, and the FN P90. How airsoft guns work
Rifles, Carbines, and DMR Airsoft Guns
Rifle airsoft guns include one of the biggest categories of airsoft guns which typically have medium to long firing ranges and high capacity gun magazines. These rifles are the standard primary airsoft guns many players prefer to use. Quite a few weapons are classified in this gun group like AR-15 styled M4 carbine airsoft guns, short-barreled rifles (SBR) airsoft guns, assault style airsoft guns like the AK-47, and designated marksman rifles (DMR) airsoft guns like the Springfield M14 and FN SCAR20. Airsoft gun rifles are usually AEG powered, HPA (high pressured air) powered, or spring powered (for lower end or starter gun models). About rifle airsoft gun types
Machine Guns and Squad Support Airsoft Guns
Airsoft machine guns are the heavy hitters on the airsoft field with very large gun magazines and rapid fire rates. In airsoft games, there is usually a limit of how many squad support machine guns can be used by a single airsoft team because they are so overpowered and devastatingly effective. These airsoft guns include the M249 SAW, the M1919 tripod mounted machine gun, and the M132 Microgun Minigun. All of these airsoft guns are capable of massive amounts of firepower, so be careful if you see them during an airsoft game on the opposing airsoft team. If you have a squad support machine gunner on your airsoft team, be happy since it's going to be a fun day!
Sniper Airsoft Guns
Sniper airsoft guns usually have single shot bolt actions and are powered by powerful airsoft gun springs which can fire airsoft BBs over long distances. These guns usually have the longest ranges out of all of the airsoft guns with very high accuracy. They also usually have smaller airsoft gun magazines compared to AEG rifle airsoft guns. Examples of sniper rifles are the legendary VSR-10, M40A3, and Arctic Warfare Police (AWP). Airsoft snipers are usually dedicated roles on airsoft teams where sneaky players try to hit other players while not being seen themselves. Learn about the springs in sniper airsoft guns
More Airsoft Gun Information
Now that you understand the five main categories of airsoft guns, it's time to learn how airsoft guns work. Click the button below or visit this link to learn all about airsoft guns including more detailed information about pistol, SMG, rifle, machine gun, and sniper airsoft guns. You will also find information there about the history and science behind the airsoft weapons as well as phenomena like feet per second (FPS), BB energy, Joule creep, AEG gun springs, chronographs, and more.