Airsoft snipers can be some of the most devastating players on the airsoft field. When able to use sniper field craft successfully, a sniper can quickly eliminate many opposing players before their position is revealed. An example of this is famed airsoft sniper CleanShot who is known for his skills and abilities with bolt action airsoft guns. He can single handily hold a choke point or objective as he sends players back to their respawn point. Let's talk about how to be an airsoft sniper.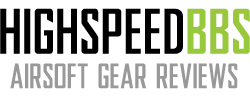 Highspeedbbs editors select and review airsoft products independently. We may earn affiliate commissions from buying links, which help support our testing. Support us.
Airsoft Sniper Guide Table of Contents
Add a header to begin generating the table of contents
About Airsoft Sniper Rifles
Airsoft sniper rifles usually have the longest range and highest FPS (feet-per-second) out of all of the airsoft rifle types. These airsoft guns are usually single-shot and require a high level of skill to use on the airsoft field. If you miss your shot, chances are high the other airsoft player will find and shoot you before you have a change to follow up with another shot.
The skill's and play style of an airsoft sniper are based around patience and waiting for the perfect shot. Snipers usually do not run-and-gun or go in "guns blazing". Instead, they support their team by blending into their surroundings, quietly waiting, and sneaking around the airsoft field while eliminating easy kills and engaging targets of opportunity.
A good airsoft sniper will make use of their long-range airsoft gun to frustrate and annoy the opposing team while maintaining an excelling kill to death average ratio (KDA). They are rarely seen, consistently shift their positions to maintain surprise, and often only noticeable by the large number of players dying in an area of the airsoft field. All this is made possible by their airsoft sniper rifle's capabilities.
The high FPS and extreme range while shooting airsoft BBs is possible because of airsoft sniper rifles' extremely long barrels. These barrels usually have tighter bores and tolerances which allow less air to escape around the airsoft BB after it is fired and is traveling down the barrel and out of the gun's bore (end of the airsoft barrel).
Ads by Amazon
Need A Sniper Rifle? Check Out These Best Sellers
Tight bore airsoft inner barrel dimensions of airsoft sniper rifles are usually around 6.01mm and airsoft BB dimensions are usually around 5.95mm +/- .01mm. So, that doesn't leave too much room in between! You can learn more about airsoft BBs here Airsoft BBs: All You Need To Know. Because of these tight dimensions, airsoft sniper rifles are very accurate depending on the weight of the airsoft BB.
Many airsoft sniper rifles come with these tight bore barrels preinstalled. If you are looking to accurize your rifle even further or build out a custom airsoft sniper rifle, you can find aftermarket barrels made out of stainless steel and other materials.
Sniper Rifle FPS and Airsoft BB Weights
Airsoft sniper rifles usually fire the heaviest airsoft BBs and depends on the FPS of the rifle. The heavier weight allows the BBs to travel the farthest distance while maintaining a stable flight path. We need to keep in mind that the weights of the airsoft BBs used in the sniper rifle will cause the FPS of the rifle to drop (because of the heavier BB weight).
If your airsoft sniper rifle shoot around 450 FPS with 0.20g airsoft BBs, it will be lower while using heavier weight BBs like +0.28g. It is good to use a chronograph (chrono) with your sniper rifle while testing different BB weights so you know you limits and ratios. Write these numbers down.
Some airsoft fields limit rifles based on FPS limits so make sure your BB velocities are within their guidelines and rules. They also usually have a special category of airsoft gun with FPS limits for single-shot sniper rifles. Bigger airsoft fields may have onsite chronos so you know your limits. Be sure to ask field staff with any questions you have before playing.
Sniping with Standard Airsoft BB Weights
Standard airsoft BB weights for sniper rifles include:
0.20g airsoft BBs for base chrono FPS speeds
0.28g to 0.30g airsoft BBs at around +400 FPS
0.32g to 0.36g airsoft BBs at around +450 FPS
0.43g to 0.45g airsoft BBs at around +600 FPS
Also keep in mind that your airsoft BB choice when sniping must take into account several more things like weather and ground cover. Think about the weather. Is it windy? Wind will affect your airsoft BB flight path. Heavier BB weights do well in wind. Look at the foliage on the airsoft field. Are you shooting through leaves, bushes, and vegetation? Lighter BBs are affected by hitting leaves more than heavier BBs.
Types of Airsoft Sniper Rifles
The two most common types of airsoft sniper rifles are spring and gas powered rifles. This is because single most sniper rifles are single shot, powerful propellant systems are needed to shoot the airsoft BBs down the rifle barrel when the gun is fired.
Spring sniper rifle use powerful spring weights of M130 to M190 to forcefully shoot airsoft BBs out of the rifle's barrel. Every time the rifle bolt is cycled, the gun's spring is compressed and a new airsoft BB is loaded into the chamber.
Sniper Rifle Spring Power and FPS
This spring guide below from Airsoft Facts and Science helps us understand more about how spring sniper rifle power affects FPS. Remember FPS limits are set by airsoft fields and you must follow their guidelines.
M90 Airsoft Gun Spring

270 FPS - 290 FPS (Approximately +/- 20 FPS)

Airsoft Spring Rifles and Airsoft AEGs

M100 Airsoft Gun Spring

300 FPS - 320 FPS (Approximately +/- 20 FPS)

Airsoft Spring Rifles and Airsoft AEGs

M110 Airsoft Gun Spring

330 FPS - 350 FPS (Approximately +/- 20 FPS)

Airsoft Spring Rifles, AEGs, and Sniper Rifles

M120 Airsoft Gun Spring

360 FPS - 380 FPS (Approximately +/- 20 FPS)

Airsoft AEGs and Sniper Rifles

Upgrade Your Internal Airsoft Gun Components To Use More Powerful Springs

M130 Airsoft Gun Spring

390 FPS - 410 FPS (Approximately +/- 20 FPS)

Airsoft AEGs and Sniper Rifles

M140 Airsoft Gun Spring

420 FPS - 440 FPS (Approximately +/- 20 FPS)

Airsoft Sniper Rifles

M150 Airsoft Gun Spring

450 FPS - 470 FPS (Approximately +/- 20 FPS)

Airsoft Sniper Rifles

M160 Airsoft Gun Spring

480 FPS - 500 FPS (Approximately +/- 20 FPS)

Airsoft Sniper Rifles

M170 Airsoft Gun Spring

510 FPS - 520 FPS (Approximately +/- 20 FPS)

Airsoft Sniper Rifles (Usually Above FPS Limits)

M180 Airsoft Gun Spring

540 FPS - 560 FPS (Approximately +/- 20 FPS)

Airsoft Sniper Rifles (Usually Above FPS Limits)

M190 Airsoft Gun Spring

570 FPS - 590 FPS (Approximately +/- 20 FPS)

Airsoft Sniper Rifles (Usually Above FPS Limits)

M220 Airsoft Gun Spring

660 FPS - 680 FPS (Approximately +/- 20 FPS)

Airsoft Sniper Rifles (Usually Above FPS Limits)
Gas airsoft sniper rifles are usually powered by CO2 or green gas. The gas is stored in the rifles magazine or stock (depend on the rifle model). These rifles use the gas as the propellant to fire the airsoft BBs. However, gas guns are not as popular as spring rifles due to increased maintenance, valve sealing problems, and more expensive manufacturing cost.
How To Be An Effective Airsoft Sniper
A sniper is only as good as they are effective. This includes moving around stealthily. Rarely being seen, and shot accuracy. Remember practice makes perfect and good airsoft sniper skills are not acquired overnight. Many airsoft snipers have refined their snipe tradecraft, accuracy, rifle upgrades, and know-how for a very long time.
Having The Right Equipment and Gear
A good sniper needs a good rifle and equipment. Get a solid VSR-10 upgradable platform with some workable optics (it's an airsoft gun so don't spend a lot). Upgrade your rifles FPS to local field limits. This depends on your area so call your local airsoft field with any questions about FPS and safety before upgrading your gun. This will help avoiding un-upgrading your gun later if you push the limits with a "hot" weapon.
Knowing The Airsoft Field
Knowing the airsoft field is important as an airsoft sniper. Setup on a chokepoint or high traffic enemy area. Engage the opposing team from cover or concealment (depending on what's available). Keep moving and stay one step a head of your opponents while moving around. Don't be in the same place when they come back from respawning!
Positioning As A Sniper and Movement
Understand the best ways to position as an airsoft sniper. This includes using rooms of buildings as cover in MOUT areas or similar fields with rooms. In these places, shoot from inside the room and avoid sticking your rifle barrel out of a window where it is visible. In forested areas, use camouflage to your advantage and move around quickly and quietly. You can also use a ghillie suit if needed to blend in better, but these suits also make it hard to move quickly.
Operating As An Airsoft Sniper
Put all of the skills and knowledge together to begin operating as an airsoft sniper. This includes knowing when your area is "burned" and the opposing team knows you are there. Leave the area and move to a better spot where they are less aware if possible. Also, know when to transition to a pistol or sidearm if you don't need the longer range of your rifle. Pistols come in handy when moving room-to-room in a building or CQB (close quarters combat) situation. Don't forget to sling your rifle and transition back for long shot opportunities.
Is your sniper loadout ready to go?
Check out CleanShot to see how your airsoft sniper gear setup compares to his loadout.
Need an airsoft sniper?
Check Out These Best Selling Airsoft Sniper Rifles
Durable metal and high strength polymer construction
Easily adjustable hop-up for high accuracy
Ambidextrous mag release; Loaded chamber indicator
Mag capacity of 45 rounds; Direct BB feeding system
Shoots 6mm plastic airsoft BBs at up to 425 fps
Last update on December 4, 2022 // Source: Amazon API
Learn How Airsoft Guns Work
See how airsoft guns work internally and learn about science.