Airsoft rules are important to cover before playing airsoft. These rules help to define how the airsoft game is played, what players are allowed to do on the airsoft field, and what specific guidelines help to keep players safe during close engagements. Because of this, these rules are sometimes called "rules of engagement" or just "rules of airsoft games".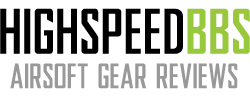 Highspeedbbs editors select and review airsoft products independently. We may earn affiliate commissions from buying links, which help support our testing. Learn more.
Airsoft Rules and Safety Table of Contents
Add a header to begin generating the table of contents
Airsoft rules can come from a few different places depending on who is setting up, hosting, or running the airsoft game. The important part to understand is that these rules are in place for people to follow. Players should not intentionally avoid, break, disregard, or try to circumvent the rules in any way, shape, or form. Doing so can be dangerous and can cause players to not have fun, become frustrated, or possibly even become injured.
Airsoft Field Rules
If you are playing airsoft at a field, make sure you understand the field's rules. These rules are enforced by game staff and the referees, and not following the rules will cause trouble. Extreme cases of airsoft rule breaking and safety concerns may prevent you from playing at the airsoft field for the day or being "banned" from the field entirely. Airsoft field rules are usually nonnegotiable. These rules are usually set for risk, insurance, and liability reasons and are not open to change. You simple need to follow them or find somewhere else to play.
The airsoft field rules are usually posted on a prominent rule notice board at the field. They are also usually covered verbally by game staff during the safety briefings. Be sure to pay attention and remember the rules. If you have questions about the rules and specifics, ask game staff. The old adage of "ask for forgiveness and not permission" does not fly when it comes to rules at airsoft fields.
Private Airsoft Game Rules
Private airsoft game rules are usually set by the game host or consensus of the players. This usually means the person in charge of the game set the general airsoft rules and guidelines. Players have to agree to these rules to play. If anyone has concerns of questions, they can ask the host about them. Airsoft rules during private airsoft games are sometimes open for discussion and can possibly be changed if the airsoft players and host agree.
Airsoft Rules of Engagement
The following rules are some general guidelines which are good to follow when planning airsoft games. They govern safety, eye protection, field emergencies, "hit" rules, close proximity engagements, respawns, and other details. Many airsoft fields have similar rules as well, so check out the specifics below if you are looking for a general idea of what airsoft rules of engagement look like.
These airsoft gun rules and guidelines are used by many airsoft teams and MILSIM (military simulation) groups across the country to govern the use of general airsoft play.
Airsoft is a game of honor and players need to call their own hits when tagged by airsoft BBs.

Avoid calling opposing team players out after hitting them with airsoft BBs since this is considered to be poor sportsmanship and is the job for game staff and referees.

Players caught attempting to cheat, avoid, manipulate, or circumvent airsoft game rules may be asked not to play in the airsoft game and possibly banned from future games or events depending on the severity of the event(s).

Players who attempt to steal from other players (or the airsoft field), intentionally cause or try to cause bodily harm to other players, or engage in unlawful activities will be referred to local law enforcement authorities and banned from future airsoft games and events.

Full Seal eye protection must be worn at all times by any person while playing airsoft and while being in, on, or near areas in play.

Airsoft BB hits count if a player is hit anywhere on their body, gun, or gear.

Players hit by airsoft BBs will show opposing players they were tagged out by displaying a red "dead rag" and calling out "hit".

Players within 15 feet (5 yards) of each other must avoid shooting each other and use the "bang bang" rule.

While the "bang bang" rule is in play, the aggressing player (ready for action with their gun up) survives will the other players are "hit" - if both players meet barrel to barrel, both are "hit"

During airsoft events, command staff should do their best to make the games interesting and enjoyable for their team's players by setting realistic objectives, missions, and goals

Players must be able to see and clearly identify their targets before firing.

Medics are able to heal and revive players according to mission or game rules.

On-field emergencies can be declared by any player on the field by saying and repeating "real world" which pauses all game play.

Players having eye wear malfunctions or problems with their goggles tell other players with a "blind man" command after which players must not shoot at the affected player.

Players must repeat global game and emergency commands to ensure all players on the airsoft field hear and understand them.

Players must not use any of the above rules for a tactical advantage which includes moving, repositioning, or changing positions during pauses or lulls in the game play.
Learn More About Airsoft
See our information airsoft articles.