Playing airsoft is a great way to spend enjoyable time with friends. Whether you are playing airsoft outdoors at an airsoft field or indoors in an airsoft area, there are certain types of airsoft gear you need to bring with you. Planning ahead is critical because the airsoft gear you need in the forest, at an airsoft field, in an indoor area, or at an urban warfare MOUT environment facility. MOUT is short for "military operations on urbanized terrain" and can involve urban-like environments with buildings, houses, stores, and other commonly found areas in suburban living areas and cities.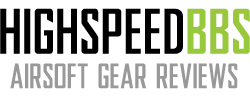 Highspeedbbs editors select and review airsoft products independently. We may earn affiliate commissions from buying links, which help support our testing. Learn more.
The Airsoft Gear Breakdown
#1 Airsoft Guns - AEG, Sniper Rifle, & Pistols
Bring your airsoft gun gear when playing airsoft
When playing airsoft, you need to bring an airsoft gun. Pack your automatic electric airsoft gun (AEG), airsoft sniper rifle, and airsoft pistols and the airsoft gear you use with them. You can also bring more than one airsoft gun for backups in case your main weapon has a problem. These backup airsoft guns are also great to share with friends, practicing skills (like transitioning from a sniper rifle to pistol) or to use when you get bored of mowing down airsoft players with your AEG. Check out the best airsoft gun reviews to see which airsoft guns perform the best and why along with their FPS ratings.
#2 Airsoft Mask and Ballistic Eye Protection
Pack your airsoft masks and eye protection airsoft gear
Airsoft masks and ballistic eye protection is necessary to keep your eyes and face save from incoming airsoft BBs. Most airsoft fields require "full seal" airsoft goggles meaning they have to be rated to a certain impact level. Look for and use full seal airsoft goggles which are at least ANSI Z87. 1+ or MIL-PRF-31013 impact rated. This ANSI rating meets the guidelines set by the American National Standards Institute meaning they can withstand impact from high FPS projectiles like airsoft BBs. Keep in mind that goggle ratings are different than safety glasses ratings.
If you question the safety of your eye protection, conduct an impact test in a safe environment where you shoot the glasses multiple times at close range using an AEG airsoft gun or similar airsoft gun. If your eye protection survives, it is most likely safe to use on the airsoft field. If the eye protection breaks, be glad you weren't wearing them during an airsoft game and look for better impact rated airsoft goggles.
Most airsoft face masks are wire mesh. You can use these with full seal airsoft goggles to protect your face. Keep in mind you should not wear mesh goggles as airsoft BBs can break or shatter against the mesh and the BB fragments can injure your eyes. You can also use a head covering like a balaclava mask, camo netting, mosquito webbing, or tactical shemagh (aka Middle Eastern scarf) to protect your neck. Old paintball masks do work as well as long as they are full seal, but can fog up in moist or wet conditions. The main idea of covering your head is to completely seal your eye, face, ears, and neck areas to keep them safe from airsoft BBs.
#3 Extra Batteries For Electric Airsoft Guns
Bring extra batteries and gear for AEG airsoft guns
If you use electric airsoft guns, AEG airsoft guns, or other types of airsoft guns which use batteries, bring spares. One large AEG battery can last a full day of airsoft games depending on how many missions you play, but it never hurts to be safe and bring more in your airsoft gear. For example, a larger 8.4V NiMH 3000mAh battery can power an AEG all day long. If you use mini AEG batteries, it is a good idea to bring a few of them. A smaller AEG battery would be something like a JG 7.2V NiMH 500mAh. This smaller type of battery can last you half a day of airsoft missions.
The exact amount of airsoft games your airsoft gun battery will last for is based on the energy draw of the gun on the battery and how you use your AEG airsoft gun. Consistent and sustained full-auto AEG firing will drain your gun battery much faster than semi-auto or burst firing. Use a battery setup which will meet the needs of your play style. If you enjoy full-auto suppressive fire to keep the opposing players' heads down,  use larger AEG batteries and setup an external battery pack system using Deans connectors for low resistance.
Remote airsoft games and airsoft tournaments create another challenge for charging your batteries. If you play airsoft games back in the woods or on national forest land, you can use a car charger or power inverter to recharge your AEG airsoft gun batteries. Power inverters let you use your standard airsoft gun battery chargers in your car by turning DC 12V into 110V AC. Your car uses 12 volt direct current (DC). A 3 pin battery charger which normally plugs into a wall outlet uses 110 volt alternating current (AC). The power inverter allows you to plug the inverter into your car's accessory port (aka cigarette lighter socket) and then plug in your standard 3 pin plug battery charger to the inverter to charge your airsoft gun batteries.
Power Inverters Let You Charge Airsoft Batteries in Your Car by Converting 12V DC to 110V AC
Power inverters are a great item to keep in your airsoft gear bag. They let you charge your electric airsoft gun and AEG airsoft gun batteries in the car by attaching the inverter to a standard cigarette accessory power adapter port. They usually only cost $20 to $30 USD. Check the prices below.
#4 Airsoft BBs and Airsoft Gun Ammunition
Make sure you have plenty of airsoft BBs to shoot
Don't forget airsoft BBs when packing your airsoft gear bag. BBs are one of the most important pieces of airsoft gear besides airsoft guns and eye protection. How many airsoft BBs you need to bring depends on your airsoft play style. If you are an airsoft sniper, you might just use a few hundred carefully fired airsoft BBs during a day of airsoft games. If you are an AEG airsoft gun player or squad machine gunner, you could potentially fire thousands of airsoft BBs while playing airsoft all day. As a rule, most airsoft players use under 1000 airsoft BBs a day. Keep a spare bag or bottle of BBs on hand in your airsoft gear and it should be enough to keep your airsoft gun loaded. Check out the best airsoft BB reviews to compare high quality airsoft BB brands and see which brand will work best in your airsoft gun.
#5 Green Gas and CO2 Cartridges for Airsoft Guns
Take extra green gas bottles for green gas blowbacks (GBB)
If you use green gas or green gas blowback (GBB) airsoft guns, bring extra bottles of green gas in your airsoft gear bag. This includes airsoft pistols and rifles which powered by propane gas mixtures to shoot airsoft BBs. Make sure to bring a few bottles of green gas with you when you play airsoft. The green gas used in airsoft guns have a mixture of silicone oil which is used to help keep the seals and gaskets in GBB magazines functioning well. If you use propane gas (instead of green gas), occasionally oil your magazines and GBB airsoft guns with silicone oil. Keep in mind 1 can of green gas can usually fill between 12 to 14 GBB pistol magazines depending on the magazine size. Bring enough green gas for the number of magazines you plan on using during the airsoft games.
If your airsoft guns are powered by CO2 cartridges, bring extra 12 gram CO2 cartridges to keep your airsoft pistols and rifles firing. You can usually find a 12, 20, or 50 pack of CO2 cartridges, so keep a box in your airsoft gear. CO2 usage varies per shot depending on the airsoft gun and blowback or non-blowback. For example, a non-blowback airsoft pistol might shoot 100+ rounds of 6mm airsoft BBs before running out of CO2 and you need to replace the 12 gram CO2 cartridge. Other types of blowback airsoft pistols might last only 40 to 60 shots before emptying the CO2 cartridge. Bring enough CO2 to make your gun last through the airsoft games of the day.
Have the tools to fix airsoft gun problems
Airsoft guns are like little machines internally. They are full of moving parts, gears, and wires. These guns can shoot thousands of 6mm airsoft BBs over the course of a day playing airsoft. The moving parts inside the pistol or rifle cycle every time the gun is fired. Because high repetition of the firing airsoft BBs over and over again, airsoft guns can experience problems and need adjusting on the airsoft field. It is important to be equipped with the right tools to fix airsoft gun problems so you can continue playing airsoft.
Build an airsoft tool kit and keep it with your airsoft gear. Tools are essential to maintaining airsoft guns and there are a few must haves like screwdrivers, pliers, diagonal cutters, Allen keys, Torx wrenches, and silicone oil. You can build out your airsoft gun tool kit with as many things as you need. From the basics all the way up to more advanced tools like soldering irons, multi-meters, and dremel tools. The important thing here is to have the tools you need and understand how and when to use them as you diagnose and fix airsoft gun problems.
See The Best Tools to Keep in Your Airsoft Gear for Fixing and Maintaining Airsoft Guns
Understand which tools you need in your airsoft gear bag, and learn about the right tools for working on airsoft guns. Set up your airsoft tool kit so you will be able to maintain your airsoft guns, fix airsoft gun problems in the field, and complete basic airsoft gun upgrades and modifications.
#7 BDUs and Camouflaged Combat Uniforms
Dress with camouflage clothing to blend in for concealment
Camouflaged clothing helps airsoft players blend in on the airsoft field. This airsoft gear includes battle dress uniforms (BDUs), camouflage clothing, hunting camo, ghillie suits, camouflaged outfits, and other camouflage and clothing which help players blend into the environment. The type of pattern you wear can depend on a few things:
Which camouflage patterns you like - Pick a camouflage pattern you like and want to use.
Airsoft Team VS Team camo colors  - Are teams chosen or divided by camo colors for example? Pick a camo color which is the same as your friends or team so you can play with them if the airsoft game teams are separated by camouflage color.
Types of airsoft games being played - You might have to wear a certain type of camouflage specific or an era or war
Which camo patterns are available  - Which types of camo you can get or afford? Standard woodland camo widely available and very common. Other types of camouflage are not so common or are custom ordered patterns.
Camouflage materials - Rip-stop cotton is the most comfortable in the hot summer time weather. It is also good in the winter in colder areas by wearing long underwear under your BDUs or camouflage uniform.
BDU brands - Look for quality BDU and camouflage brands like Proper International. They are one of the best BDU brands. Other top brands include TRU-SPEC and 5.11 Tactical.
Dressing for the weather - Dress appropriately for the weather. Jackets are great when it is cold but can lead to things like heat exhaustion when it's hot out. Look for camouflage clothing which is a appropriate to your playing conditions and weather. Pick a camouflage that blends into your environment for the season you are playing airsoft in.
Matching the rest of your airsoft gear - If you want to be "high speed", try matching your airsoft gear with your BDU camo patterns. This helps you blend in on the airsoft field and also looks pretty "operator status" cool. Don't try to match too hard though as it can be kind of obvious. You're aren't here to play dress-up after all. You are here to play airsoft!
#8 Combat Boots and Tactical Footwear
Wear the right footwear for airsoft combat
Your footwear is an important piece of your airsoft gear. You will encounter many different types of terrain on the airsoft field depending on where you are playing. Choosing good footwear with ankle support, waterproof material, and good traction is important. A study pair of combat boots or tactical boots is usually the best choice since they are created for high speed, low drag environments with consistent dynamic movements. These boots help you avoid injuries like slipping and falling on wet or muddy surfaces since the boot treads provide  increased grip and twisted ankles since they also have increased ankle support.
Many different environment and obstacles are encountered on different types of airsoft fields. In the forest you may find standing water, streams, mud, rocks, branches, brush, bushes, tall grass, and other natural obstacles. In urban or military operations in urban terrain (MOUT) airsoft fields, you can find other man made obstacles like concrete barriers, stairs, windows, doorways, fences, tunnels, broken glass, and wire. Choose a set of footwear which protects your feet and allows you to move through the airsoft field safely. They should also hold up to your actions like running, jumping, crouching, crawling, and climbing. Keep in mind your ability to play airsoft depends on your ability to move well around the airsoft field.
#9 Comfortable Shoes or Tennis Shoes
Have a comfortable pair of shoes to wear home
After a long day of airsoft, it feels great to take off your hot combat boots and switch into a nice pair of comfortable shoes. Bring an extra pair of shoes in your airsoft gear for the ride or drive home. These can be anything you want from a favorite pair of sneakers to tennis shoes to loafers to flip-flops or sandals. If you are wearing shoes to swap out with your boots, you might also want bring a spare pair of socks too. Put your other pair of dirty, sweaty socks into a plastic bag so they don't smell up the car too.
#10 Gloves and Hand Protection
Protect your hands and fingers from airsoft BBs
Gloves and hand protection is a must have in your airsoft gear bag. Full for gloves which are made out of a durable material like nylon or leather. Airsoft players use their hands a lot while running around on the airsoft field. You are constantly grabbing airsoft guns, loading magazines, carrying gear bags, crawling around trees and ditches, and climbing over rocks and other airsoft field obstacles. Full fingered gloves protect your hands during all of these activities.
Full fingered gloves also protect your hands when other airsoft players are shooting at you. It hurts getting hit in the fingers, even at long range. Gloves provide an extra barrier between your hands and incoming airsoft BBs flying at 400 FPS. Some gloves also come with armored knuckles which are reinforced with PVC, carbon fiber, or padding for extra protection. Find the right airsoft gloves for you and add them to your airsoft gear pack.
Your hands are important so protect them
Finding some quality hand protection leads to many great days of airsoft games. There is a wonderful feeling to wearing a pair of well-fitting gloves as you got into airsoft battle. Whether it's your favorite pair of armored knuckle Mechanix gloves or some 5.11 Tactical Taclite 3 gloves, don't go into a game without them. Your hands will thank you.
Hydrate right with the correct kind of beverages
Staying hydrated is one of your top priorities when playing airsoft. Proper hydration is a combination of drinking water and electrolytes. It might be tempting to start your airsoft day off with an energy drink like a Monster or Red Bull, but try to stay away from those caffeinated beverages. The caffeine in them actually leads to dehydration which can ruin your airsoft day. Instead, stock up on water by putting a few bottles of H2O in your airsoft gear.
Water is essential to keeping your body healthy and moving as you play airsoft. A large percentage of your body is water, and your cells and muscles need water to function since it helps transport nutrients to cells through your circulating blood. Your blood constantly flows around your body also helps your muscle fibers recover and move better by removing lactic acid which builds up when you use your muscles and keep them under tension. Hydrating by drinking water is also even more important in the hot weather during the summer as it helps your body regulate its temperature. Balance your pure water intake with electrolytes.
Electrolytes are the second part of healthy hydration on the airsoft field. Electrolytes are minerals your body can use during exercise to balance the water intake, increase cellular function, and stop muscles from cramping up due to fatigue, exhaustion, and excess lactic acid build up. These minerals include sodium, chloride, potassium, calcium, magnesium, and phosphate just to name a few.
These minerals help to replenish the minerals you lose during exercise. Your body uses up these minerals and also sweats some of them out. That is why sweat is salty. You need to intake more electrolytes to replace the ones you use up playing airsoft. If you are drinking sports drinks like Gatorade, keep in mind the optimum ratio is about 4-to-1 ounces (or 4:1 similarly sized bottles as well) of water to sports drink. The easiest way to replace your electrolytes is to use electrolyte tablets. These tablets easily dissolve in water, so you can both hydrate and increase your mineral intake at the same time. If you need to pick up some tablets for your airsoft gear, price check electrolyte tablets at the link below.
#12 CamelBaks and Water Bottles
Carry water with your airsoft gear on the airsoft field
Now that we covered the proper hydration and water to electrolyte ratios, you need to have a way to carry water on the airsoft field. How you carry water is an important part of our airsoft gear. Don't play airsoft without bringing some type of water holding container whether you take multiple smaller water bottles, a water jug, CamelBak hydration pack, thermos, or other type of container to hold water. CamelBaks and canteens are a great idea to carry water with you on the airsoft field. You can leave the other thermoses and smaller bottles with your airsoft gear bag in the staging area or car.
Make sure your container holds enough water to last all day. If you wonder how much to bring, take at least 1 ounce of water for every 1 pound of your body weight when you play airsoft. This is a good rule of thumb to follow for gauging your water intake. If you are playing in the summertime when it is hot out, bring 1.5x the normal amount of water with you as well as some electrolyte tablets. If you have a 1 gallon container, it can hold about 128 ounces when completely full. Bringing a gallon water jug can be a great option and you can usually find these large water jugs at most Walmarts, grocery stores, and supermarkets.
Have a deployment bag to hold your tactical and airsoft gear
We've talked a lot about airsoft gear. To store all of your airsoft gear, you need the right bag for the job. Use a large deployment zipper bag to carry all of your tactical equipment and airsoft gear. Look for a bag which has adequate room, pockets, and compartments. Make sure it is not too heavy to carry or move when fully loaded up. Some larger gear bags have wheels on them. Others have shoulder straps to help you carry the airsoft gear bag. An old ice hockey bag or other type of large duffel bag works just well in a pinch too if you don't have a deployment bag.
The Condor Colossus Duffle Bag is a great example of a good quality and affordable airsoft gear bag. This bag has a large storage compartment with an expandable divider which can fit airsoft tactical vests, tool kits, FAST helmets and other airsoft gear. It also has three external zipper side sleeves and detachable straps so it can be carried as a backpack or shoulder bag. It costs around $67 USD.
#14 Airsoft Gun Cases and Weapon Bags
Discreetly carry your airsoft guns in gun cases
Some airsoft guns look very much like real guns. This is because these airsoft replicas like M4 carbine assault rifle AEG airsoft guns, Glock airsoft pistols, and other airsoft guns are modeled and named after actual firearms. It is best to use airsoft gun cases to conceal your airsoft guns when transporting them to and from the airsoft field. This keeps them safe inside the padded case for transport and also hides them from view from people who don't need to see them.
Airsoft gun cases come in a variety for lengths depending on the type of airsoft gun you have. If you are transporting long guns like airsoft sniper rifles, automatic electric airsoft guns (AEGs), and shotguns, a rifle sized gun case is great to use. Some of these rifle cases are also double cases which hold two rifles. If you have smaller guns like airsoft sub-machine guns (SMGs) airsoft pistols and handguns, or folding weapons, a backpack or smaller case can be used to hide these weapons. There are a lot of gun cases available. Check out a few airsoft gun case options below which might work for your airsoft gear load out.
#15 Airsoft Tactical Vests
Use a tactical vest and MOLLE pouches to carry airsoft gear
Airsoft tactical vests are one of the most used pieces of airsoft gear you need on the field with the exceptions of airsoft guns, goggles, and masks. Tactical vests come in handy for carrying extra airsoft gear and equipment on your person during airsoft games. This includes extra airsoft gun magazines, green gas, airsoft BBs, a red rag (to signal that you are "dead" after you get hit), a multi-tool, field maps, pens, and other mission critical items. Most airsoft vests have MOLLE attachment hook and loop systems or sewn on pouches. Choose the style of tactical vest which is best for you.
MOLLE stands for "Modular Lightweight Load-carrying Equipment". This means each pouch and magazine holder comes separately from the tactical airsoft vest. You can mix and match pouches to add them in a modular format in different configurations to hold your airsoft gear. When setting up a new MOLLE vest, you will need to multiple pouches, magazine holder, dump bags, admin gear pouches to create a full airsoft load out. This can be quite expensive as the vests usually cost over $60 to $100 USD and the pouches run $20+ USD each which can put the full build tactical best at around $200+ USD.
If you are on a budget, a standard airsoft tactical vest may be best for you which comes with sewn on pouches. These are sewn onto the vest, so they cannot be moved around, but you can usually buy a vest for under $100 USD. Condor is a great airsoft gear brand which makes both types of tactical vests. Find a tactical airsoft vest which meets your needs for the airsoft gear you want to carry with you in the field.
Store some food and snacks in your airsoft gear
You need to keep your energy up while playing airsoft. Storing food and snacks in your airsoft gear will help you eat on the run. Bring a mixture of carbohydrates and protein snacks like beef jerky, power bars, and energy bars. Avoid sugary foods since sugar-based energy will only give you a short burst of energy before you "crash" from the sugar high.
Compasses can come in handy when playing airsoft games in larger open spaces, forests, or national parks which have land navigation components. You want to have a compass in your airsoft gear to use during these types of airsoft games. You may have to lead you airsoft team from one point to another across a large area or to a different part of the airsoft field. This is more important when using maps to navigate during large airsoft operations and events such as the Operation Lion Claw Military Simulation Series (OLCMSS) airsoft games. In these larger airsoft games, the fields can include multiple MOUT sites, towns, and other buildings. It is important to know where you are, where the mission objective is, and how to get there. Use a good compass and your land navigational skills to help you complete the airsoft mission.
#18 Garbage Bags for Trash and Airsoft Gear
Garbage bags can keep airsoft gear dry and used to carry trash
Having several garbage bags with your airsoft gear comes in handy for several purposes. They can help you carry trash out of the area you are playing airsoft in and also help keep your airsoft gear dry from rain or water. Find a good sized 55 gallon trash bag with drawstring ties at the bag opening. They also double as a makeshift poncho if you have to stay dry yourself. Simply cut holes in the bottom of the trash bag for your arms (cut the sides near the end) and your head (cut a hole in the center of the bottom). Put the trash bag on for an instant emergency poncho.
Sitting on a camping chair makes rest in between games great
Having more fun while playing airsoft all day is really about planning ahead. If you are playing airsoft in an area without picnic tables, rocks or other things to sit on, having a camping chair in your airsoft gear makes all the difference. This gives you a great spot to post up and have lunch, work on your airsoft gun, or just hang out and talk to friends or your airsoft team. You can find a nice folding camping chair which will also collapse into a compact carrying bag for convenient transportation and storage. You can even find a camo chair which will match your airsoft gear and BDU colors too if you want.
Amazon Disclosure: Highspeedbbs is a participant in the Amazon Services LLC Associates Program, an affiliate advertising program designed to provide a means for sites to earn advertising fees by advertising and linking to Amazon.com. FTC Disclosure: Some links may be affiliate links. We may get paid if you buy something or take an action after clicking one of these.