If you are looking for information about the best airsoft plate carriers and tactical vests, you are in the right place! Carrying all of your airsoft gear on the battlefield is tough. You need the right loadbearing platform which makes it easy to move while holding everything you need to play airsoft. This gear includes your extra airsoft gun magazines, spare airsoft BBs for reloading your magazines in the field as well as your red rag (dead rag), communications equipment, snacks, and water. Learn more about the best tactical vests and plate carriers below.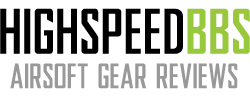 Highspeedbbs editors select and review airsoft products independently. We may earn affiliate commissions from buying links, which help support our testing. Support us.
Airsoft Vest Table of Contents
Add a header to begin generating the table of contents
About Tactical Airsoft Vests
As airsoft evolved into more of a milsim (military simulation) sport, airsoft vests, plate carriers, and tactical loadout equipment have become the standard for carrying gear on the airsoft field. These vests and carriers make it easy for players to maintain control of their gear and quickly move around the combat zone while having everything they need to achieve winning more games. They also have a super cool "operator" status look to them and protect player's bodies from incoming airsoft BBs.
Storing Gear in Tactical Vests
Airsoft tactical vests usually have many pockets, pouches, MOLLE attachment points (for more pouches), and other ways to carry large amounts of gear. This is a balance act since it is a mix of carry what you need but not too much so that it weighs you down or prevents you from moving quickly across the airsoft field. You can optimize your airsoft gear loadout with the best tactical pouches. Some commonly found items in a standard airsoft tactical vest loadout include the follow.
Tactical Vest Loadout Gear:
Spare airsoft gun magazines
Sidearms like pistols (carried in holsters) or shotguns (carried in scabbards)
Extra airsoft BBs
Red "dead" rags
Navigation items like pens, maps, and compasses (for larger open fields)
Food: powerbars, trail mix, beef jerky, and other snacks
Hydration: water and electrolytes
Radios and communications gear
Airsoft gun tools: multitools, field repair kits, and silicone spray
Gear stored in tactical pouches
Other equipment as needed by airsoft players
Tactical airsoft vests provide a few layers of extra material to help cushion the impact of incoming airsoft BBs. Some vests have more than others and some vests include hardened armor plates or ABS plastic scales. These airsoft vests have extra padding and protection, but almost every vest will offer some protection from incoming airsoft BBs.
One challenge encountered by wearing thick vests with rows of magazine pouches and a lot of gear attached to it is that players cannot feel their hits very well. In these cases, players need to listen for their hits and call themselves out as "hit" if their vest or gear is hit by incoming airsoft BBs based on the airsoft field or games rules.
Types and Styles of Airsoft Vests
There are several different types of vests and loadbearing equipment used in airsoft. As a definition, an "airsoft vest" is a general term used to describe anything players tactically wear on the upper half of their bodies and holds airsoft gear. Keep in mind there are specific styles of airsoft vests and they are similar but different. Each vest presents different advantages and disadvantages depending on what airsoft players need or are specifically looking for in their gear. We will discuss the following types of these best airsoft vests.
Airsoft Vest Types:
Pre-made tactical airsoft vests
Tactical MOLLE vests platforms
Airsoft plater carriers and armor holders
Modular chest rigs and tactical half vests
Tactical load-bearing vests (LBV)
Pre-Made Tactical Airsoft Vests
Pre-made airsoft vests one of the most basic forms of airsoft vests. These vests come ready-to-play out of the box and are also some of the cheaper vest available while still maintaining good quality and durability. Many brands manufacturer pre-made vests including Condor with their Elite Tactical Vest, BLACKHAWK! with their Omega Tactical Vest, and Classic Army with their Tactical Cross Draw Vest. If you are playing airsoft on a budget, pre-made tactical airsoft vests are great because they usually cost about $35 to $100 USD.
These vests are immediately usable and come with sewn in magazine pouches, pouches which hold airsoft BBs, and other pockets. The magazine pouches are specific to the vest models and usually come in M4 or AK47 styles. With pre-made vests like Condors Elite, players can attach a U.S. GI military web belt to the bottom of the vest. Here they can add things like dump pouches, drop leg holsters, and other belt pouches and accessories. The Elite airsoft vest back as MOLLE loop attachments for a CamelBak or other things like glow sticks or a shotgun scabbard.
Durability and Vest Types
Since these airsoft vests are factory constructed, they are very well made with solid stitching and will usually last for a long time. We've seen a few of these vests worn for so long the colors start to fade, but they still serving their gear carrying purpose very well. Many airsoft players start out with one of these vests, sell it later on, and upgrade to a more custom vest solution.
Pre-Made Vest Types
Look for right type of pre-made vest you need. Some have built-in magazine pouches for AR-15/M4 magazines others have AK-47 magazine sizing. Make sure the vest you are buying will work for holding your specific airsoft gun type magazines. Different styles of pre-made airsoft vests are also available. They include:
Magazine carrier vest setups which feature 6x AK-47 to 12x M4 magazine slots (depending on size of magazine inserted)
Cross-draw pistol holster combinations with a 3x or 6x magazine pouch on the opposite side
Rifle shotgun tactical vest pouch setups with shotgun shell loops inside pouches
EOD vests (explosives ordinance detection) with many admin pouches
Grenadier vests with many grenade pockets for M203 shells
This tactical airsoft vest is pre-made by Condor. It is a good example of a basic airsoft vest and comes ready to play with:
6 built-in M4 magazine pouches
2 utility pouches
2 internal pockets
A zipper front for secure closure
Adjustable side and shoulder areas
Attachable USGI pistol belt for add-on pouches
Mesh back with MOLLE loops
Like pre-made airsoft vests?
Get The Condor Elite Airsoft Vest
Click on the tabs below to change pre-made tactical vest categories.
Condor Elite Tactical Vest
6 Adjustable Mag Pouches, 2 Small Utility Pouch
Mesh Back for ventilation and webbing for modular attachment
Last update on July 30, 2021 // Source: Amazon API
Other Pre-Made Tactical Vests by Condor
Last update on July 30, 2021 // Source: Amazon API
Other Styles of BLACKHAWK! Pre-Made Tactical Vests
Airsoft MOLLE Tactical Vests
A more advanced and customizable airsoft vest is the tactical MOLLE airsoft vest style. These modular vests allow each pouch to be moved and positioned independently based on the specific setup airsoft players and tactical operators need. The MOLLE webbing uses a hook and loop strap system which allows gun magazine pouches, radio pouches, medical IAK pouches, utility pouches, and weapon holsters to be mounted anywhere on the vest where the MOLLE panels allow. The resulting hundreds of different combinations, positions, and orientations means tactical operators can pick and choose the customized MOLLE pouch setup for the specific role they are playing (like breacher, grenadier, SAW gunner, etc) or mission they are running.
The customized look and feel of MOLLE airsoft vests are great. However, the tactical vest platform and pouches are usually sold separately or in kits which makes them more expensive than pre-made airsoft vests. A basic MOLLE vest can run about $40 to $160 USD while the pouches are usually around $20 USD each. A fully loaded MOLLE tactical loadout can run about $200 to $500 USD depending on how many pouches and different types of MOLLE pouches are needed. If you have decided to go the MOLLE vest route, check out the best tactical MOLLE pouches to get your loadout set up.
Airsoft Versus Real World MOLLE Gear
When shopping for MOLLE vests, keep in mind airsoft companies make replicas of "real world" tactical vests. These airsoft "knock off" vests and pouches run a fraction of the prices of the real gear used by militaries, Specials Forces (like Rangers, Navel Special Warfare Development 'Dev Group', and MARSOC) and other special ops units. For example, a London Bridge Trading Company (LBT Inc.) MOLLE vest can cost as much as +$700 USD while airsoft versions (which are made in China) usually cost under $70 USD.
How MOLLE Attachments Work
The "MOLLE" system is an acronym meaning "Modular Lightweight Load-Carrying Equipment". This tactical equipment system describes pouches, panels, and straps which use MOLLE mounts. The three parts of the system are MOLLE pouches, straps, and panels which are put together to create the MOLLE airsoft loadout.
MOLLE Panels
MOLLE panels are the "base" found on airsoft vests. They feature a series of loops which are used to secure pouches to the best with straps.
MOLLE Straps
The MOLLE straps are usually made of nylon with a snap and are threaded through the MOLLE panel loops and the similarly found loops on pouches.
MOLLE Pouches
The MOLLE pouches have a MOLLE loop panel on the back of the pouch which allows straps to be securely connected to MOLLE panel loops.
Putting It Together: Connecting Tactical MOLLE System
The whole MOLLE system comes together as operators select the pouches they need for a an airsoft vest loadout or mission, weave the MOLLE straps through the loops on the pouches and vest panels, and secure the snaps on the straps to keep the pouches in place. The result is an super customized airsoft vest with the look and feel of "operator status".
Condor makes a good standard MOLLE vest for airsoft. This tactical vest is a great platform for customizing your loadout:
Front and back MOLLE attachment areas
Durable stitching on the hook and loop webbing
Zipper front attachment
Double securing buckles for added security
Tactical belt loops for attaching a U.S. GI military web belt or tactical pistol belt
Padded shoulders with rubberized exterior
Internal mesh liner for airflow ventilation
Adjustable sides (girth straps on sides of vest snug up to fit airsoft players well)
Want to setup a MOLLE vest airsoft loadout?
Check Out The MOLLE Airsoft Vests Below
Click on the tabs below to change MOLLE tactical vest categories.
Quality tested and ensured for maximum durability
Designed with only the toughest, roughest users in mind
Comfort and performance come hand in hand with Rothko
Last update on July 30, 2021 // Source: Amazon API
Other MOLLE Tactical Vests
Other MOLLE Tactical Vests
Last update on July 30, 2021 // Source: Amazon API
Other MOLLE Tactical Vest and Pouch Kits
Looking for airsoft guns?
See our best airsoft gun reviews!