Airsoft and military simulations (milsim) events are becoming more popular than ever before. Many of these milsim events are often era specific or focused around historical events or battles in military history. This allows airsoft players to experience events like what it felt like to storm the beaches of Normandy, participate in Vietnam era reenactments, secure the town of Mogadishu in Somalia during Blackhawk Down, and patrol as MARSOC Raiders or Delta Force operators.
These milsim events take airsoft players back in time since the event staff only allow the military uniforms, airsoft guns, and other essential combat equipment of that era to be used during the event. The result is an airsoft experience as close to realism as possible with many unforgettable memories attached to it! The only problem is... what do historical airsoft uniforms look like?
To accurately setup an realistic milsim airsoft loadout, airsoft players usually need to spend hours researchings the right airsoft guns, gear, and equipment to use for the event. Keep in mind that airsoft players can only use essential airsoft gear and equipment which is within the milsim guidelines for era's time. Fortunately, there is a great resource for airsoft players to this find information while they replicate and recreate their airsoft gear loadouts. Enter The Essential Guide to Airsoft Gear by Osprey Publishing.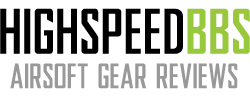 Highspeedbbs editors select and review airsoft products independently. We may earn affiliate commissions from buying links, which help support our testing. Support us.
The Essential Guide to Airsoft Gear Table of Contents
Add a header to begin generating the table of contents
About The Essential Airsoft Gear Guide
The Essential Guide to Airsoft Gear contains uniform descriptions, high quality pictures, specifications, and information about airsoft uniforms specific to elite military units. With a total length of 144 pages, readers can discover what to wear to imitate their favorite special Operations units and where to buy the gear online if they cannot find it at their local retail tactical outlets and airsoft shops.
The airsoft guide is full of specific details featuring the tactical wear and ballistic protective gear the Special Ops operators don before missions including plate carriers, MOLLE loadout systems, tactical helmets, BDU uniform shirts, ripstop nylon pants, tactical gloves, eyewear, and communications (coms) setups. The result is very realistic airsoft uniforms which are battle-ready and modeled after real-world tactics and warfare.
The military units featured in The Essential Guide to Airsoft Gear include the British Special Air Service (SAS), U.S. Army Rangers, U.S. 1st Special Forces Operational Detachment–Delta (1st SFOD-D) a.k.a "Delta Force", USMC Raiders and the United States Marine Forces Special Operations Command (MARSOC), Russian Special Forces Spetsgruppa "A" (Alpha Group), U.K. Counter Terrorist Specialist Firearms Officers (CTSFO), and more.
Realistic Airsoft Gear
Here is an example loadout of the United Kingdom Police Counter Terrorist Specialist Firearms Officer (CTSFO). The CTSFO use wolf grey uniforms and plate carriers like the C2R-MOR Lite Plate Carrier pictured. To build a realistic CTSFO uniform, airsoft players need to start with one of these airsoft tactical vests (or lookalike). Next, affix the appropriate patches and C-09 insignia to the vest's Velcro panels. Build out the carrier by attaching a triple kangaroo M4 pouch with MOLLE webbing on the front (insert glow sticks into the webbing). Finally, add a single point bungee sling on the tactical vests right shoulder, and a few inverted Emerson High Speed M4/M16 magazine holders. Add a matching wolf grey combat uniform, a black or gray helmet, and a drop leg holster. You are well on your way to looking like a CTSFO operator.
Get Your Copy
The Essential Guide To Airsoft Gear Book
Milsim Airsoft Loadouts
Airsoft players can replicate the British Special Air Service uniform with the following setup. First, start with an OD green SAS FBS UK armor plate carrier like the First Spear Crye Precision vest. This can also be substituted for the Eagle Industries MAC MS FCCA UK Core Plate Carrier or similar vest. Affix SAS insignia and a good old Union Jack flag patch. Add a BLACKHAWK SERPA holster to the front in a cross-draw setup. Attach the follow tactical pouches to the front MOLLE loops: a triple M4 magazine pouch with Velcro flaps, a medical pouch to the operator's right, an admin or similar pouch to the right of the medical pouch, and a coms pouch on the left side. Add fatigues and a Mk 7 style helmet or similar tactical helmet. Keep in mind that SAS soldiers also wear blue, black, and other patterns like Multicam depending on the environment and era.
Build Your Gear Loadout
Airsoft Loadouts From The Essential Guide to Airsoft Gear
Use the The Essential Guide to Airsoft Gear to understand great gear setups and to build your perfect airsoft gear loadout.
Twenty-First Century Era U.S. Special Forces Essential Airsoft Gear

Airsoft Gear

Airsoft Vest or Plate Carrier

Maritime or Land Combat Integrated Releasable Armor System (CIRAS) vest replica

Use MOLLE pouch attachments with replica ballistic IIIA plates and U.S. patch insignia

Airsoft BDU Uniform

MARPAT Combat Utility Uniform in Desert or Woodland camouflage

Use related U.S. insignia but no USMC rank

Airsoft Uniform Hat or Helmet

Advanced Combat Helmet (ACH) replica in Coyote, OD, or helmet cover which matches uniform

ACH NSN: 8470-01-529-6329

Airsoft Guns

M4A1 CQB SOPMOD or M27 IAR (HK416) airsoft AEG rifles, M40 airsoft sniper rifles, with M45A1 airsoft pistols

Use SOPMOD stocks on M4s/M27 IARs and Safariland 6004 holsters for pistols
Tactical Equipment Information
Learn more about the tactical equipment, holster, gear pouches, and loadout setups used by real-world operators and how you can design your own airsoft uniform styles around those ideas and styles. The airsoft gear guide includes breakdowns of:
Tactical Gear Loadouts and Plate Carriers
Gear Pouches and Vest Accessories
Helmets and Night Vision Equipment
Radios, "Coms", and other communications equipment
Awesome tactical gear tips from veterans who "know"
Airsoft "Pro" Gear Tips and Extras
If you've made it this far, great job. This is just the tip of the iceberg. Welcome to the world of military simulation, mil-sim events, reenactments, and just really cool looking airsoft uniforms. These realistic tactical uniforms will help get you started in building your own. Keep in mind there are a few tips to building your very own airsoft uniform setups.
Realistic Feel: Realism is good. However, only craft uniforms which are realistic for your budget, needs, and airsoft mission specs. Don't feel the need to go drop thousands of dollars on gear your could actually go to war with or buy someone's overpriced gear off Ebay because an "operator" wore it. We are playing airsoft after all.
Shop Good Airsoft Brands: Find good quality airsoft gear brands which don't break the bank. Airsoft gear brands like Condor make some really nice quality airsoft tactical vests and plate carrier replicas. Other mass-produced uniform makers like Proper, Tru-Spec, and Rothco are good for budgets as well.
Have Fun: Have a good time creating your new airsoft uniforms, learning about some military history, and mix and match a few things. It doesn't have to be perfect and make sure you can still move well, navigate the terrain, and crawl around in the mud with your new airsoft gear.
Get Your Copy
The Essential Guide To Airsoft Gear