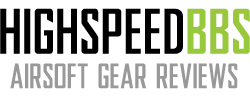 Highspeedbbs editors select and review airsoft products independently. We may earn affiliate commissions from buying links, which help support our testing. Support us.
ESEE 6P-B Knife Review Table of Contents
Add a header to begin generating the table of contents
ESEE knows how to make knives and cutting instruments for hard use which makes them excellent tools for your survival kit. Their quality and durability gives ESEE knives a custom-made feel at a price-point of a manufactured knife. These knives are made by Jeff Randall and Mike Perrin of Randall's Adventure & Training and were recommended tools for their "school of survival". ESEE Knives was born and their blades are rated as some of the best-in-class cutting edges for tough jobs.
Since 1997, the ESEE Team has developed simple and durable knives, blades, and cutting instruments to use in the field targeted around cutting jobs encountered by military personnel, law enforcement, police, outdoor enthusiast, explorers, adventurers, and survivalists.
ESEE Knife Quality and Warranty
ESEE knives stand behind their quality, and the knives are backed by a simple warranty. You break it, they repair or replace it. You can learn more about the warranty here. Their quality and reputation precedes them which make ESEE knives a quality investment for your survival kit. ESEE blades have endured long periods of extraordinarily hard use, ruthless testing, and abuse. Designed to withstand the hardest of brutal circumstances, ESEE knives' reputation upholds the best-in-class rating.
The ESEE 6P-B Plain Edge Knife is a durable cutting instrument and one of ESEE's most popular adventuring and survival knives. It features a full tang 1095 carbon steel blade which is 3/16" thick and has a black blade coating (like a powder coating finish). The knife's plain edged blade allows for ease of sharpening with auto sharpeners and whetstones. The handle is a Micarta construction and the scales (grips) are secured with three Allen bolts.
The ESEE 6P comes with a molded sheath with a belt clip plate on the back for wearing on standard belts or tactical style belts. Additional mounting options are available as well with ESEE sheath accessories and many aftermarket sheaths are available on the market. The factory molded sheath also includes eyelets for weaving paracord or 550 cord through for securing the knife to adventure backpacks, gear, or tactical MOLLE vests.
Price Check The ESEE Knives 6P Fixed Blade Knife
Last update on February 4, 2023 // Source: Amazon API
Knife Cleaning and Maintenance
The ESEE 6P-B Plain Edge Knife is a professional cutting tool and should be taken care of and maintained as one. This includes regular maintenance like:
Oiling the ESEE 6P-B Knife Blade - Use a rust inhibiting oil often on the blade while you are carrying it. This is even more important in humid and wet climates. When in storage, periodically check the knife's condition and wipe the blade down with a light coat of oil.
Sharpening the ESEE 6P-B Knife Blade - Use a whetstone, sharpening stone, or auto sharpener (a high quality one) to keep the ESEE 6P-B blade in its top cutting shape. Letting a knife blade lose its edge a can make the cutting tool ineffective when you need it during a critical incident or survival situation. Always make sure to check the blade's sharpness after an adventure or use. Sharpen as needed before storing.
Honing the ESEE 6P-B Knife Blade - If the blade becomes damaged, nicked, or chipped, repair the area with a honing rod to make the blade's cutting surface straight again. This can be done relatively quickly and easily and increases the lifespan of the blade.
ESEE 6P-B Warranty Replacement - If the ESEE 6P-B knife becomes damaged beyond your repair abilities, remember that ESEE knives does offer a repair and replacement warranty program. Check with the manufacturer to see how you can get your survival knife fixed (or get a whole new knife entirely).
Get the ESEE 6P-B Plain Edge Survival Knife
The ESEE 6P-B Plain Edge Survival Knife is a quality survival knife ready for your adventures.
SPECIFICATIONS : Overall Length: 11.75" , Blade Length: 6.50". Includes a high quality protective polymer sheath with clip plate attachment and lanyard hole.
RAZOR SHARP BLADE: Tactical knife blade made of black coated 1095 High Carbon Steel, a top choice for professional field knives, for lasting durability
LIFETIME GUARANTEE: Esee Knives has a lifetime and transferable guarantee covering repair or replacement - no sales receipt or proof of purchase required.
MULTI-USE: Perfect for military, tactical, hiking, camping, survival, self-defense, hunting(skinning and gutting), fishing, and other outdoor situations
FULL TANG HANDLE: Stacked Micarta handle creates balance for safe and comfortable handling of this fixed-blade knife
Last update on February 4, 2023 // Source: Amazon API
ESEE 6P-B Knife Accessories
Pair your ESEE 6P-B Knife with an aftermarket sheath, sharpening whetstone kit, and accessories.