The Steyr AUG is a popular bullpup-style rifle among soldiers, police, and target shooters. It's a reliable and accurate firearm that can be used for a variety of purposes. The AUG is a bullpup-style rifle, meaning the ammunition is located behind the trigger guard instead of in the traditional forward position on a standard rifle. This design allows for a shorter overall length, which makes it more maneuverable and easier to handle.
The AUG's bullpup layout also results in a smaller and more compact firearm than a standard rifle. This makes it an excellent choice for tight spaces or for people who want an easy-to-carry weapon that they can use in any situation. The Steyr AUG is also one of the most popular rifles on the market today. It has a wide variety of uses, from target shooting to self-defense. If you're looking for an all-around gun that can handle many tasks, the Steyr AUG should be at the top of your list.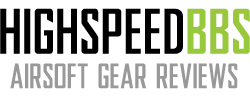 Highspeedbbs editors select and review airsoft products independently. We may earn affiliate commissions from buying links, which help support our testing. Support us.
Steyr AUG Table of Contents
Add a header to begin generating the table of contents
The Steyr AUG is a revolutionary assault rifle that was developed in Austria by Steyr Mannlicher GmbH and Co KG in the late 1960s, and AUG is short for "Armee-Universal-Gewehr" (Universal Army Rifle). It is a gas-operated, select-fire bullpup rifle with a modular design, allowing for easy customization and a variety of features and accessories. The Steyr AUG is chambered in 5.56x45mm NATO and is fed from a 30-round transparent magazine. It has a 16.5-inch barrel and can reach muzzle velocities of up to 2,800 feet per second.
The rifle is lightweight and ergonomic, featuring an adjustable stock, a short overall length, and a free-floating barrel. It also has a built-in 1.5x optical sight, which allows for accurate aiming even at long ranges. The Steyr AUG is used by military, law enforcement, and private security forces around the world due to its unparalleled reliability and accuracy. This iconic assault rifle is an excellent choice for anyone who needs a reliable and accurate firearm for any purpose.
About the History of the Steyr AUG Rifle
The Steyr AUG is a revolutionary rifle that has become an iconic weapon of the modern era. Designed in the late 1960s by Steyr Mannlicher of Austria, the AUG was created to provide a reliable, accurate, and easy to operate rifle for the Austrian military. The AUG was one of the first rifles to feature a bullpup design, which places the action and magazine behind the trigger. This design reduces the overall length of the weapon while still providing a full-length barrel. The AUG was also one of the first firearms to feature a modular design which allowed users to quickly and easily customize their weapon.
The AUG quickly gained popularity throughout Europe and in other parts of the world due to its reliability and accuracy. In 1977, it became the standard infantry rifle for the Austrian military, replacing their previous rifles. Over the years, the Steyr AUG has gone through many updates and variants, but it has remained in production since its introduction in 1977. It is currently used by militaries and law enforcement agencies around the world and is widely regarded as one of the most reliable and accurate rifles ever made.
How Does the Steyr AUG Rate in Terms of Reliability and Accuracy?
The Steyr AUG is one of the most reliable and accurate assault rifles on the market. It has a long history of performance in military and law enforcement circles, and its reputation is well-earned. The rifle is constructed from high-grade materials, including a polymer stock, alloy receiver, and cold-hammer-forged barrel. This construction ensures that the AUG is robust and capable of withstanding heavy use without breaking down or losing accuracy.
In addition, the rifle features a low recoil design, making it easier for shooters of all skill levels to handle and control. When it comes to accuracy, the Steyr AUG can achieve sub-MOA accuracy with select ammunition, making it an ideal option for precision shooting. With its reliable construction and excellent accuracy, the Steyr AUG is one of the best assault rifles available.
What Types of Ammunition Does the AUG Rifle Use?
The AUG rifle is a great choice for anyone looking for a reliable and accurate rifle. It is chambered in 5.56x45mm NATO, making it a perfect choice for hunting, target shooting, and other applications. But what types of ammunition can you use with the AUG rifle? Generally speaking, the AUG can use the same types of ammunition as most other 5.56x45mm rifles, including full-metal jacket (FMJ), soft-point (SP), hollow-point (HP), and tracer rounds. No matter what type of ammunition you choose, it's important to ensure that it is compatible with your AUG rifle.
FMJ Rounds

Full-metal jacket or FMJ rounds (also called "ball" ammo) are ideal for target shooting and practice as they are designed to penetrate targets without expanding and causing excessive damage. FMJ bullets are entirely encased in metal as the name suggests which can increase they ability to over-penetrate or pass through a target.

SP Rounds

Soft-point or SP rounds are designed to expand upon contact with the target, making them a great choice for hunting and self-defense since they have less over-penetration power and more stopping power. The SP bullet normally mushrooms upon impact with a target — creating a larger diameter contact point.

HP Rounds

Hollow-point or HP rounds feature a hollow point designed to expand upon impact, maximizing the damage inflicted on the target. These rounds normally have pieces of the bullet that peel back or fragment upon impact. They are similar to SP rounds and are more often used for self-defense and personal protection applications.

Tracer Rounds

Tracer rounds are designed to leave behind a bright trail that you can easily follow, making them ideal for night shooting. They are normally loaded into the magazine with standard ball or FMJ ammo at a ratio of 1 to 5 so one tracer is fired with every five normal shots.
What Are the Pros and Cons of Using This Rifle?
The debate surrounding the use of this rifle has been ongoing for some time now, and it is usually either loved or hated. It's important to understand both the pros and cons before choosing to add an AUG for your gun collection. On the plus side, this rifle is lightweight, making it easy to carry in the field. It is also highly accurate and has a good range, which makes it ideal for shooting at medium ranges of several hundred yards. On the other hand, some have complained about its recoil, which can be quite strong (but the bullpup design does help).
Additionally, the cost of ammunition for this rifle is higher than for some other models on the market (7.62x39mm for the AK anyone?). All in all, it is important to weigh the pros and cons of using this rifle before making a buying decision. There are many factors to consider, from its weight and accuracy to its recoil and cost of ammunition. Taking all of these into account can help you make an informed decision when looking at getting a Steyr AUGs.
Which Model of the Steyr AUG is Best for Me?
Choosing the right model of the Steyr AUG can be a daunting task depending on the style and type you are trying to find. There are a variety of models available (limited by permits and country), each offering different features and benefits. If you're looking for a versatile rifle that's reliable in any environment, the AUG A3 might be the best choice for you. This model has a lightweight polymer stock with an adjustable shoulder support, making it ideal for long-range shooting and other demanding situations.
The AUG A3 also features a cold hammer-forged barrel with a 1:7 twist rate, providing increased accuracy and precision when using heavier grain ammunition. Additionally, its Picatinny rail system allows for multiple mounting options, such as bipods or night vision optics. If you're looking for something more compact, the AUG P is an ideal choice. This model has an 8-inch barrel and comes equipped with flip-up iron sights, making it suitable for close-quarter combat. It also features a collapsible stock, allowing you to customize your shooting stance.
For those who need maximum firepower and have the right paperwork (class 3) and/or tax stamps, the AUG A2 is the way to go. This model has a 16-inch barrel and a gas system that can be adjusted to fire either semi-automatic or fully automatic fire. It also features an integrated carrying handle and optics mount, making it perfect for long-range shooting or tactical operations. No matter which model of the Steyr AUG you choose, you can rest assured that you'll be getting a high-quality rifle that will serve you well in any environment.
Getting More Information About Steyr AUGs
Are you looking for more information about the Steyr AUG? This iconic Austrian-made assault rifle has been used by countless militaries and law enforcement agencies around the world since its introduction in the late 1970s. If you're interested in learning more about this versatile and reliable weapon, check out the Steyr Arms website and their online resources. You can read detailed specifications of the Steyr AUG models, see whats new with their various firearms, or watch instructional videos to get a better understanding of the rifle features.
For a more in-depth look at the weapon's history, you can also find articles and books that provide a comprehensive overview of the gun's origins and development. Additionally, you can find online stores that carry parts and accessories for the Steyr AUG, as well as aftermarket part manufacturers where you can find product specifications and contact information for customer service. With so many different sources available, you can easily find all the information you need to make an educated decision about picking up one of these classic rifle or just researching how they have changed military history.
The Steyr AUG Versus Other Types of Rifles
When it comes to selecting a rifle, the Steyr AUG is an excellent choice for anyone looking for a reliable and accurate weapon. Like we discussed earlier, this iconic assault rifle is designed by Austrian firearms manufacturer Steyr Mannlicher GmbH, has been in production since the late 1970s, and is still one of the most popular firearms today. There are several reasons why the Steyr AUG is a superior choice over other types of rifles.
First, its bullpup design makes it much more compact than traditional rifles, allowing for greater maneuverability in tight spaces.
Second, its unique modular weapon system means that it can be quickly and easily customized to fit the user's needs, making it suitable for a wide range of applications.
Third, the AUG is capable of firing from both semi-automatic and three-round burst modes, giving users greater control over their shots.
Last, its high-quality construction and robust materials make it incredibly durable and reliable, ensuring that it will always perform even in the toughest environments. All these factors make the Steyr AUG an ideal choice for those looking for a reliable and effective rifle.
Wrapping Up the Steyr AUG Weapon Platform
The Steyr AUG weapon platform has been an iconic piece of military hardware for decades. In summary, this weapon system has provided soldiers and law enforcement personnel with reliable and accurate rifle performance since the late 1970s. It has earned its reputation as one of the most successful bullpup rifles of all time. Steyr Mannlicher in Austria developed a well-loved masterpiece when they created this weapon. Its gas-operated, selective fire capability has proven to be effective using the 5.56x45mm NATO cartridge at short to medium ranges.
The AUG features a lightweight, modular design that can be quickly adapted to the needs of the user. It was one of the first military rifles to feature a built-in telescopic sight and a unique muzzle brake that reduces felt recoil. The Steyr AUG is a versatile weapon system that can be configured as a standard rifle, a light support weapon, or a sniper rifle. It is also available in different length variants for different applications.
The AUG continues to be used by military and law enforcement forces around the world, offering them reliable performance and accuracy in almost any environment. With its robust design and long service life, the Steyr AUG is certainly one of the most iconic weapons of our time. The Steyr AUG is a great choice for anyone looking for a reliable, accurate firearm that can be used for a variety of purposes.
What About Steyr AUG Airsoft Rifles?
Looking for realistic training with the Steyr AUG? Check out Steyr AUG airsoft rifles! They are becoming increasingly popular in the airsoft gear market. With their realistic look and feel, these rifles are not only great for airsoft skirmishes, they are also an excellent choice for collectors and AUG lovers. Their well-crafted design offers an advantageous edge over other airsoft rifles and their multiple shooting modes give players the freedom to choose the right firepower for their mission.
The Steyr AUG airsoft rifle has a lightweight build that is easy to maneuver and its adjustable stock makes it comfortable to use for all players. The Steyr AUG also features an integrated optics system with a variety of sights available that can be used to accurately target opponents on the battlefield. Additionally, these rifles are made with durable plastic parts that are designed to last through even the most intense airsoft skirmishes. With its many features and great performance, the Steyr AUG airsoft rifle is a top choice for any airsoft enthusiast.
Learn about Steyr AUGs for airsoft
The Steyr AUG is a renowned bullpup assault rifle, first developed by the Austrian arms manufacturer Steyr Mannlicher in the late 1970s.
Since then, this innovative piece of weaponry has been adopted by the armed forces of over twenty-five countries around the world. Its popularity is due to its superior design and performance capabilities, making it a favorite among military personnel and weapons enthusiasts alike.
The Steyr AUG is unique in that it features a bullpup design, where the magazine and action are placed behind the trigger. This design allows for a compact size, increased accuracy, and improved ergonomics.
It also has an integral 1.5x optical sight and Picatinny rail system for mounting additional accessories. The Steyr AUG is an extremely durable and reliable rifle, designed to meet the highest standards of quality and performance. It's lightweight, accurate, and easy to operate, which makes it a reliable assault rifle.