Airsoft Gun Magazines
Find Airsoft Magazines To Use In Your Airsoft Guns
Airsoft magazines are critical for winning airsoft games because you must have BBs in the field to reload your airsoft gun. Find popular airsoft gun magazines for your airsoft guns including high-caps, mid-caps, and low-caps. Carry more magazines with you so you will always have enough airsoft BBs and ammunition in the field. See the best airsoft magazines with great reviews and ratings.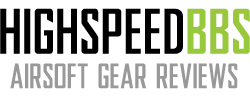 Highspeedbbs editors select and review airsoft products independently. We may earn affiliate commissions from buying links, which help support our testing. Support us.
Showing 1–12 of 2264 results
About Airsoft Gun Magazines
Airsoft guns shoot airsoft BBs. These BBs are usually stored in the gun's magazine. These magazines normally attach to the airsoft gun similar to the real weapons they are modeled after. The types of airsoft gun magazines include real capacity, mid capacity, and high capacity magazines.
Airsoft Gun Magazine Types
Airsoft gun magazines come in several types like real capacity, mid capacity, and high capacity magazines. These types most often apply to AEG magazines. Real capacity magazines, or real-caps, simulate the amount of airsoft BBs a real gun would store, which is normally about 24 to 30 BBs. Mid capability magazines, or mid-caps, allow for more airsoft BB storage with capacities around 120 to 160 BBs. High capacity magazines, or high-caps, give airsoft players the most storage with over 200 rounds of BB storage capacity. One thing to note about high-cap mags is that airsoft fields often restrict their usage due to players using too much ammunition to spray and pray during games.
How Airsoft Magazines Work
Airsoft magazines have a series of internal channels and BB storage areas. The BBs are usually loaded into these channels with a spring attached to the very far end. When the BBs are loaded, they compress the spring creating tension. On the load end, a small latch holds the BBs in the magazine. When a BB is fired, the airsoft gun releases the latch for a split second and loads another BB into the gun out of the magazine. CO2, HPA, and GBB guns, which use high pressure air or green gas, will often store the gas or feed air in through the magazine. This feeds BBs into the guns for these types of systems.
Airsoft Rifle Magazines
Airsoft rifle magazines are most often used in automatic electric guns (AEGs) and some types of sniper rifles. The magazines are specific to the type of AEG rifle and all of the types of that rifle are cross-compatible with the magazines. The AEG magazines are inserted into the gun's magazine well. For example M4 style AEG magazines would normally work in all M4 style rifles from a short CBQ gun with a 10" barrel made by G&G to a designated marksman rifle (DMR) platform with a 24" barrel. The same would apply to AK47 AEG magazines with swapability between different AK rifle platforms. AEG rifle magazines can store between 60 to 200+ airsoft BBs.
Learn how AEG airsoft guns work
Airsoft SMG Magazines
Airsoft SMG magazines AEG are also separated by gun model and usable between different submachine guns. Hecker and Koch H&K MP5 AEG magazines are made to work in different MP5s like the MP5K or MP5SD. P90, KRISS Vector, and TMP AEG magazines are built similarly. These SMG magazines also come in real capacity, mid capacity, and high capacity versions with BB storage capacities ranging from around 24 airsoft BBs with real capacity mags to over 200 BBs with high capacity magazines.
Rifle Magazines for Green Gas and HPA Systems
Green gas rifles (including GBB versions) and guns powered by high pressure air (HPA) often have their own custom design depending on the airsoft gun brand. These magazines use air and gas to function so the magazines often come with builtin gas reservoirs or pre-tapped for HPA tank hookups. The magazines used in GBB guns store gas in the magazine so the rifle cycles every shot and feeds in the next BB. HPA pre-tapped magazines use HPA lines which are hooked up to the valves and allow the pressurized air to flow in through the magazine. This setup feeds the airsoft BBs into the HPA gun.
Airsoft Pistol Magazines
Airsoft pistol magazines are often less versatile when compared to the AEG magazines used in rifles and SMGs. Pistols mags vary by type and often use CO2 or green gas (propane) stored in the magazine. The magazine is inserted into the pistol's grip like the standard firearm design. Pistol magazines are often interchangeable between similar models of the same airsoft gun manufacturer, but are often not cross-brand compatible unless they are specifically designed for that purpose. Most airsoft pistol magazines store around 20 to 30 airsoft BBs.
Learn about airsoft pistol types